California Weigh Station & DOT Information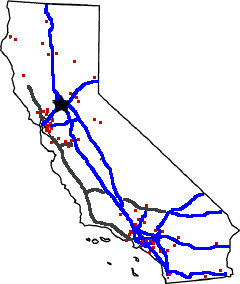 Total Weigh Stations & Truck Scales: 65
WARNING! We've had reports of officers ticketing sleeping drivers for idling their trucks at truck stops- most recently truck stops in the Fresno area. Watch out! Thanks, Mike D., for the latest update!
Many California weigh station locations have signs on the roadway leading up to them that rental and delivery trucks must enter open weigh stations.
PrePass trucks that receive a green light in California must still enter an open weigh station if they are pulling an oversize/overweight (even permitted) load except LCVs operating with an annual permit that receive a green light. They must also enter an open weigh station if they are operating on a temporary permit to haul hazardous waste/materials.
Weigh stations in California seem to close if the officers realize the ramps are full. Maybe they monitor the cb- it often seems that when drivers start complaining about it, they close the scales. If you're lucky, you'll be the one driving by. California weigh stations take quite a bit of time to cross- the speed limits are low and the weighing is slow. They do have a lane dedicated to empty trucks to cut down on the back up, but they still weigh them- this isn't the honor system.
No one is relaxed when entering a California weigh station. Several weigh stations have a lot of inspection bays and a lot of officers performing inspections, but even the weigh stations with small facilities perform inspections. The Banning weigh station used to sell t-shirts saying I SURVIVED THE BANNING SCALES. The weigh station itself didn't profit from the sales. They profited a police club.
If you have a spread axle or tri-axle trailer with more than 8 feet from the center of the first axle to the center of the rear axle, you can have a trailer axle weight up to 42,000. Except in California. California rounds to the nearest whole number. So if you have 8 feet 5 inches, they round the distance up to 9 feet and you're good to haul the weight. But if you have 8 feet 4 inches, they round down and you're limited to 34,000. They do not always check the distance- but they do sometimes check it. Be aware.
California (along with Oregon and Washington) issues CVSA stickers for trucks and trailers that have passed inspections. The stickers are color coded and have cut-outs on the corners. This system allows a DOT officer to look at your windshield and know at a glance if you've passed an inspection and when.
Diesel sold in California is often referred to as "California Gold." The fuel prices in California have historically been much higher than in the surrounding states. In the past several years, the surrounding states have been giving California a run for their money on having the highest fuel prices.
It's a good idea to check fuel prices online and decide where you are going to buy ahead of time. Historically, truckers have found that fuel is cheaper in Ripon, Barstow or Bakersfield and more expensive at the truck stops in Ontario, San Diego, San Francisco and along route 101. Things change daily, so basing your decisions on what has "historically" been the case does not always work out.
If you're looking for a lot of excitement at a truck stop, plan to stay over at one of the Ontario truckstops, south west of the I 10, I 15 junction. There are two T.A. truck stops there. The one on the west side of Milliken Avenue has a reputation for being slightly more wild than the one on the east side. Plan to pay for parking if you don't buy fuel, shop service or items from the store.
If you prefer a less expensive and less dramatic truck stop experience, plan to park in Barstow at Lenwood road or in Wheeler Ridge (just north of the Grapevine, south of the junction of I 5 and route 99). Both locations have services for 18 wheelers- truck washes, fueling, repair, tire and maintenance shops, and personal services.
The California fuel tax rate is $0.476 per gallon of diesel. This rate includes a 6% state sales tax and a 1.25% county tax.
Over-Gross Weight Tolerance: Premium Content
Over-Gross Weight Procedures: Premium Content
Over-Axel Weight Tolerance: Premium Content
Over-Axel Weight Procedures: Premium Content
Overweight Fines and Consequences: Premium Content
Dodging the Scales: Premium Content
Blowing By the Scales: Premium Content
Premium Information: Premium Content
Important Phone Numbers:
CHP Northern Division: 530-225-2715
CHP Valley Division: 916-464-2090
CHP Golden Gate Division: 707-648-4180
CHP Central Division: 559-277-7250
CHP Southern Division: 818-240-8200
CHP Border Division: 951-849-5646
CHP Coastal Division: 805-549-3261
CHP Inland Division: 661-824-2408
Motor Carrier Safety Unit Central Division: 559-445-6992
Motor Carrier Safety Unit Southern Division: 661-395-2921

---
[wp_ad_camp_2]