Texas Weigh Station & DOT Information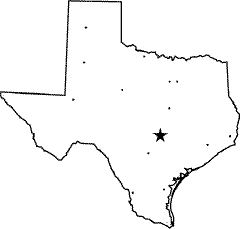 Total Weigh Stations & Truck Scales: 104
We need the help of truckers in Texas. We compiled our list of scale locations from various sources and have confirmed many. We have also been able to de-bunk a few false weigh station locations. But Texas seemingly has a million state routes and a million scales listed… Because there are so many routes and our research is limited by the roads we are able to run within certain time periods and loads, we need your help to verify/de-bunk weigh station locations. So, if you find a scale or find that there's NOT a scale… go to the page for that weigh station and leave a comment. Or you can use the "Contact Us" page to send a general comment. Thanks for your help!
Texas truckers thought they were going to have it made in the fast lane in May 2006 when Texas increased it's day time speed limit to 80 mph. Turns out, though, that the increase from 70 mph to 80 mph was for cars only. Truckers are limited to 70 mph in these regions- in west Texas on interstates 10 and 20. In many areas of Texas, the speed limit at night is lower than the daytime limit. In the 80 mph areas, the night time speed limit for all vehicles is 65 mph.
Dallas, Texas, is home to The Great American Trucking Show (GATS). Th3 2007 event takes place August 23- August 25. Aaron Tippin will be back to entertain those attending teh event. In 2006, Aaron Tippin and Ronnie Milsap both performed free concerts for GATS attendees.
Exhibitors at the GATS include many trucking companies, on board weighing systems, tire and wheel manufacturers, chrome shops, trucking magazines and newspapers, trucking associations, truck lighting retailers, custom sleeper manufacturers, repair shops, truck accessory retailers, truck insurance providers, many radio personalities, and all kinds of products to make life on the road easier, and more fun and cost effective!
The GATS featured many trucking seminars, including seminars on safety, maintenance, personal credit, bio-diesel, background checks, and 2007 engines. Some seminars geared toward owner-operators are about fuel management, liability insurance, tax preparation, and used trucks. Some seminars geared toward fleets and companies are about fuel management, safety audits, licensing and fuel tax audits, and a "how to" seminar on becoming a motor carrier or freight broker.
The GATS features on-site truck parking. In 2005, the GATS had nearly 45,000 attendees and in 2006 they had 45,914 attending the show. For more information on the GATS, call 888-349-4287.
San Antonio, Texas, is located at the junction of I 10 and I 35. Traditionally, the fuel prices in this area of Texas have been cheaper than in other areas, but it is always good to verify actual current fuel prices online rather than trusting trends. San Antonio is home to the Alamo and the San Antonio River Walk. The Alamo is the site of the rally call to "Remember the Alamo" for Texas revolutionaries against Mexico. It is where 189 Texans held the fort against thousands of Mexican troops for almost 14 days. The San Antonio River Walk is a tourist attraction featuring bars, restaurants, and walk ways along the San Antonio River.
El Paso is known by truckers as the home of the "Cadillac Man" who will take you over the border to see the senoritas. His c.b. advertising can be heard via bounce or, as some may say, tape recorded reproductions of his voice across the 48 states.
Out in the west Texas desert is the town of Fort Stockton. People sing the praises of cities like El Paso and San Antonio, but neither has the claim to fame that Fort Stockton does. Fort Stockton is home to Paisano Pete, an 11-foot-long, 22-foot-long statue of a road runner. Strange but true.
The Texas fuel tax rate is $0.20 per gallon of diesel.
Over-Gross Weight Tolerance: Premium Content
Over-Gross Weight Procedures: Premium Content
Over-Axel Weight Tolerance: Premium Content
Over-Axel Weight Procedures: Premium Content
Interstate Weight Limits: Premium Content
State Route Weight Limits: Premium Content
Overweight Fines and Consequences: Premium Content
Dodging the Scales: Premium Content
---
[wp_ad_camp_2]