New Mexico Weigh Station & DOT Information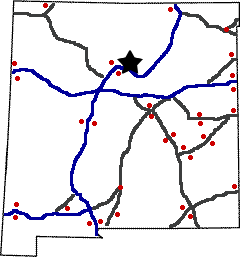 Total Weigh Stations & Truck Scales: 34
All commercial vehicles are required to enter the ports of entry in New Mexico if they are open. This means anyone hauling anything that is used for profit must enter. If someone is transporting their own personal goods (moving etc), they are not required to enter the ports no matter how large the truck. But a private, not-for-hire race hauler IS required to enter, because a race car is used for financial gain. If someone is hauling their own personal horses or livestock for personal reasons (not for racing or selling), they are only required to enter the ports if there is a sign saying that all vehicles with livestock must enter. That is different from all commercial vehicles with livestock.
Any vehicle or combination of vehicle traveling in New Mexico is allowed a 400 lb gross weigh tolerance if the vehicle has an APU (idle reduction technology) according to 66-7-410 in the New Mexico code of law.
PrePass trucks that receive a green light in New Mexico must still enter an open weigh station if they are pulling an oversize/overweight (even permitted) load.
Every October you will see hundreds of hot air balloons in the sky above Albuquerque- it's quite a sight if you are fortunate enough to drive through during the event. The event- called The Albuquerque International Balloon Fiesta- will be held this year October 6 thru 15. For truckers who can find a parking spot and wish to get up close to the event, the launching field is located on Alameda Blvd about 1 mile west of I 25. The admission fee is $6.00 for anyone 12-years-old or older and free for those under 12. No pets allowed. If you are interested in attending, call the information number at 888-422-7277.
New Mexico is arguably the Extraterrestrial center of the United States. Roswell and the Very Large Array are hard to top when it comes to E.T. incidents.
Roswell is site of the famed 1947 alien crash. A local rancher found the debris from a crash on his land and reported it to the local authorities. A clean up crew from the Roswell Army Air Field came out and cleared away the wreckage. The town of Roswell has capitalized on their "alien history" to draw in tourists and make some money off Roswell's out of this world fame. Whether the UFO crash was truly an alien craft or a weather balloon or a craft used in a secret government program is still under debate today. It was certainly a flying object and it was certainly unidentified. Roswell is also home to the International UFO Museum and Research center. Two of the museum's founders are the man who was the Public Information Officer for Roswell Army Air Field in 1947 and one of witnesses of the 1947 alien space craft incident. If you want to tour the museum, there is a $2 fee for adults (18 and over) and a $1 fee for children. For more information, you can call the museum at 505-625-9495.
The Very Large Array (VLA) of radio antennas is located west of I 25 just south of route 60, west of Socorro. Truckers headed to or from Arizona on route 60 will pass very close to the VLA, which is part of the National Radio Astronomy Observatory. The VLA is a group of 27 radio antennas- each of which is longer in diameter than the average tractor trailer truck if you measure it bumper to bumper. 82 feet across is quite a spread! The antennas are used to listen for signals from out of space in the search for life beyond our planet.
The New Mexico fuel tax rate is $0.19 per gallon of diesel. This includes a penny per gallon loading fee.
According to driver M. Brown, truckers traveling on route 82 with a 53 foot trailer may find themselves paying a hefty fine. Mr. Brown was traveling on route 82 to avoid a blizzard on I 40. He was pulled over in Cloudcroft, NM, just east of Alamogordo and given a ticket for $375 by a sheriff's deputy because he had a 53 foot trailer.
Over-Gross Weight Tolerance: Premium Content
Over-Gross Weight Procedures: Premium Content
Over-Axel Weight Tolerance: Premium Content
Interstate Weight Limits: Premium Content
Overweight Fines and Consequences: Premium Content
Dodging the Scales: Premium Content
Blowing By the Scales: Premium Content
Premium Information: Premium Content
Important Phone Numbers:
State Highway Patrol: 505-827-9219
Public Regulation Commission: 505-827-4519
Commercial Vehicle Registration: 505-827-0392
Office of Motor Carriers: 505-346-7858
Oversize/Overweight Permits: 505-827-0376
Road Advisory Hotline: 800-432-4269
PrePass: 800-773-7277

---
[wp_ad_camp_2]
| Weigh Station Name | Highway / Route | Mile | Truck Scale Location |
| --- | --- | --- | --- |
| Anthony | I 10 – wb | 159 | Anthony (west of TX border) |
| Lordsburg | I 10 & RT 70 – eb | 23.5 | Lordsburg (23 miles east of AZ border) |
| Lordsburg | I 10 & RT 70 – wb | 24 | Lordsburg (23 miles east of AZ border) |
| Acacia (Socorro) | I 25 – nb | 165.5 | Acacia |
| Acacia (Socorro) | I 25 – sb | 165.5 | Acacia |
| La Cienega (Santa Fe) | I 25 – nb | 267.5 | La Cienega (just south of Santa Fe at exit 267) |
| La Cienega (Santa Fe) | I 25 – sb | 267.5 | La Cienega (just south of Santa Fe at exit 267) |
| Raton | I 25 & RT 85 – sb | 460 | Raton (.3 miles south of CO border) |
| Gallup | I 40 – eb | 12 | Gallup (15 miles east of AZ border) |
| San Jon | I 40 – wb | 356 | San Jon (20 miles west of TX border) |
| San Jon | I 40 – eb | 356 | San Jon (20 miles west of TX border) |
| Nara Visa | RT 54 – wb | 349 | Nara Visa (Southwest of the TX border) |
| Clayton | RT 56 64 87 – wb | 430 | Clayton (9 miles northwest of TX border) |
| Clovis (Texico) | RT 60 70 84 – wb | 397 | Texico (.5 miles west of TX border) |
| Melrose | RT 60 – eb | 366 | Melrose (east of the town of Melrose, west of Clovis) |
| Melrose | RT 60 – wb | 366 | Melrose (east of the town of Melrose, west of Clovis) |
| Vaughn | RT 60 – eb | | Vaughn (on the east side of Vaughn near the junction of 28) |
| Vaughn | RT 60 – wb | | Vaughn (on the east side of Vaughn near the junction of 28) |
| Carlsbad (Whites City) | RT 62 180 – wb | 26 | Carlsbad (6 miles southwest of Carlsbad) |
| Hobbs | RT 62 180 – wb | 107 | Hobbs (1.5 miles west of TX border) |
| route 70 | RT 70 – eb | 314 | east o f Roswell |
| route 70 | RT 70 – wb | 314 | east of Roswell |
| Elida | RT 70 – eb | 400 | Elida (just east of Elida) |
| Elida | RT 70 – wb | 400 | Elida (just east of Elida) |
| Cedar Hill (Farmington) | RT 550 – sb | | approximately 2 miles south of the CO line |
| Shiprock (Farmington) | RT 666 491 – sb | 92.5 | Shiprock (6 miles south of CO border in the northwest corner of NM) |
| Alamogordo | | | Alamogordo |
| Anthony | I 10 – eb | | Anthony |
| Roswell | RT 285 – no | 150 | 2 miles north of route 20 |
| Roswell | RT 285 – sb | 150 | 2 miles north of route 20 |
| Carlsbad (Otis) | RT 285 – sb | 23.5 | south of Carlsbad |
| Demming | RT 26 – eb wb | 10.5 | east of Demming |
| Gallup | I 40 – wb | 12 | Gallup (15 miles east of AZ border) |
| Orogrande | RT 54 – eb | 41 | 5 miles east of Orogrande |