Ohio Weigh Station & DOT Information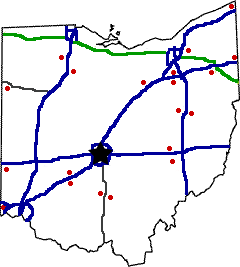 Total Weigh Stations & Truck Scales: 22
All commercial vehicles over 5 tons (10,000 lbs) are required to cross the scales if the weigh station is open in Ohio. This includes combination vehicles- meaning if your truck and trailer together weigh more than 5 tons, you are required to weigh.
PrePass trucks that receive a green light in Ohio must still enter an open weigh station if they are pulling an oversize/overweight (even permitted) load.
Ohio used to have a split speed limit for most of the state's freeways- 65 for cars and 55 for trucks. Many truckers thought this would never change but now most of Ohio's roadways have just one speed limit for both cars and trucks.
The split speed limit ended first up the Ohio turnpike when the turnpike authority changed it to 65 for cars and for trucks. Toll rates increased dramatically between 1982 and 1999. Many truckers refused to pay the high rates. Governor Taft and the Ohio Turnpike commission decided to lower the tolls and increase the speed limits to draw the truck's back onto the turnpike from the side roads. Part of the plan to get truckers to use the Ohio turnpike more was increasing the enforcement of weight laws on the side roads.
The Ohio turnpike has an overall length limit on tractor-trailer combinations of 75 feet. Longer Combination Vehicles (LCVs) can be up to 90 feet long. The weight limit for one axle is 21,000 lbs, for a tandem (less than 8 ft spacing) 34,000 lbs and overall gross weight limit of 90,000 lbs (provided your axle weights are within turpike standards). The Ohio Turnpike Commission increased toll rates for all vehicle classes effective January 1st, 2007. Truckers are paying an additional $2.50 to cross the length of the Ohio toll road on top of the $25.75 or $31.00 (depending on which weight class) they were already paying.
There is information online that the Ohio State Highway Patrol plans to close many of the existing weigh stations in the near future. This is not necessarily accurate. The highway patrol is working with the Ohio DOT to determine what the current trucking lanes are compared to what they were when the Ohio weigh stations were originally built. Many of Ohio's weigh station are in need of repair or upgrades. So, they are analyzing whether it may be more cost effective to build new weigh stations in other locations and close some of the existing scales (rather than making repairs to poorly placed weigh stations).
Ohio State Patrol has a reputation for being tough on speeding truckers, but you won't see them hiding behind walls or trees waiting to shoot someone in the rear with the laser gun. They sit in the center median. At night, they sit with their headlights on. If you get caught, it's because you aren't paying attention, not because they were sneaky.
The Ohio fuel tax rate is $0.28 per gallon of diesel fuel. The fuel tax is supposed to increase $0.03 per gallon every 2 years according to legislation passed in 2003.
Over-Gross Weight Tolerance: Premium Content
Over-Axel Weight Tolerance: Premium Content
Overweight Fines and Consequences: Premium Content
Dodging the Scales: Premium Content
Blowing By the Scales: Premium Content
Premium Information: Premium Content
---
[wp_ad_camp_2]