Illinois Weigh Station & DOT Information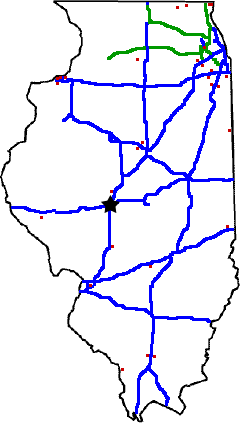 Total Weigh Stations & Truck Scales: 32
Illinois has signs on the freeway that say all trucks over 8 tons must weigh at the truck weigh stations.
PrePass trucks that receive a green light in Illinois must still enter an open weigh station if they are pulling an oversize/overweight (even permitted) load.
Illinois was a split speed limit state until 2009, with a 65 mph limit for cars and a 55 mph limit for trucks. But now cars and trucks have equal speed limits.
You'll see a lot of bears rolling around, too. And most times no one says anything on the radio about them. There used to be a bear who patrolled a stretch of I 70 and who would get on the cb radio and announce himself. Someone would ask, "where's that bear at?" and he would respond, "I'm right here, in the white car with the yellow strip and the lights." He was a nice guy and wouldn't give you a ticket unless you REALLY deserved one- but he WOULD tell you to slow it down.
Chicago, Illinois, may be a nice place to visit if you're on vacation, but for truckers it can be a real nightmare. Low bridges, unbelieveable traffic, construction, and toll roads all combine to make for a real 18-wheeler headache. Truckers who want truck-friendly routing to their Chicago destination can call 312-744-6460 for help.
The Illinois fuel tax rate is $0.413 per gallon of diesel fuel. This includes a 6.25% sales tax. Local governments can levy additional taxes. The city of Chicago levies an additional $0.1275 tax.
Over-Gross Weight Tolerance: Premium Content
Over-Gross Weight Procedures: Premium Content
Over-Axel Weight Tolerance: Premium Content
Overweight Fines and Consequences: Premium Content
Important Phone Numbers:
State Highway Patrol: 217-782-1320
Overweight/Oversize Permits: 217-785-1477/312-744-4652
IRP: 217-782-4815
Trip Permits: 217-524-7887
Toll Highway Authority: 630-241-6988
Toll Highway Trucking Permits: 630-241-6800 ext 3822
I-Pass: 800-824-7277/630-241-6800 ext 4310
PrePass: 800-773-7277
Chicago Area DOT Truck Routing: 312-744-6460

---
[wp_ad_camp_2]