Idaho Weigh Station & DOT Information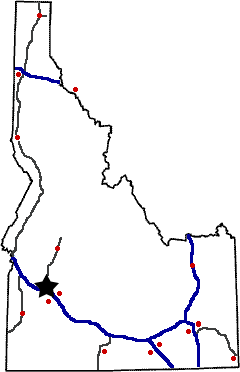 Total Weigh Stations & Truck Scales: 19
Idaho weigh stations were a part of the PrePass network, but, thanks to "Big Yellower" for letting us know that they're back to being a non-Prepass state. Trucks using the Norpass transponder system may receive a signal to bypass but Prepass trucks will always have to pull in for now.
Trucks 26,001 lbs and over (registered weight) must enter Idaho weigh stations. Livestock and Hazmat loads over 10,000 lbs must also weigh- even if they are less than 26,000 lbs.
The weigh stations just east of Boise are fairly modern. The east bound side has a large inspection bay. Other weigh stations in the state are not so modern, to say the least. Most Idaho weigh stations are nothing more than a small building with an axle scale out front.
A note to the novice- DO NOT attempt to travel from Lewiston to Boise on route 95 or 55 if you have a 53 foot trailer- you're not allowed. To run the Idaho state routes, you have to buy a permit. Once you buy the permit, you can use their formula to determine which routes you are allowed to run. If you have a 53 foot trailer, you won't be allowed to run routes 95 or 55, so save yourself the headache. The way truckers tell it, if you are headed southbound, you may make it past the scales in Lewiston with no problem. But down the road a ways, an officer will be waiting for you and you will be ticketed and towed out of the state. They don't play.
The Idaho fuel tax rate is $0.25 per gallon of diesel fuel.
Over-Gross Weight Tolerance: Premium Content
Overweight Fines and Consequences: Premium Content
Dodging the Scales: Premium Content
Important Phone Numbers:
State Highway Patrol: 208-884-7000
Overweight/Oversize Permits: 208-334-8420
IRP: 208-334-8611
Trip Permits: 208-334-8611
Port of Entry Info: 208-334-8688
Norpass: 877-224-7336

---
[wp_ad_camp_2]