Georgia Weigh Station & DOT Information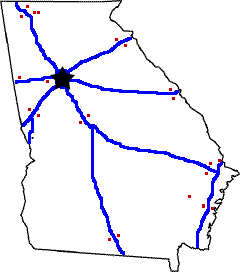 Total Weigh Stations & Truck Scales: 22
Until recently, PrePass users could only get a red light in Georgia. That's because Georgia was one of a handfull of states whose weigh stations had transponders that used Norpass rather than PrePass. Now most Georgia scales can give the green light to PrePass transponders. That doesn't mean you'll get the green light- that still depends on your company's safety rating with DOT and the weigh station's random pull-in rate. But if you do get the green light, ride on. You didn't get away with anything and they won't be coming after you to pull you over for running the scales.
PrePass trucks that receive a green light in Georgia must still enter an open weigh station if they are pulling an oversize/overweight (even permitted) load.
The Georgia fuel tax rate is $0.282 per gallon of diesel. This rate includes a 4% sales tax. The fuel tax rate varies based on local option sales tax figures that are published every 6 months.
Over-Gross Weight Tolerance: Premium Content
Overweight Fines and Consequences: Premium Content
Dodging the Scales: Premium Content
Important Phone Numbers:
State Highway Patrol: 404-657-9300
Motor Carrier Compliance: 404-624-7212 ext 7211
Overweight/Oversize Permits: 888-262-8306
IRP: 404-675-6135
Trip Permits: 800-749-6058
Norpass: 877-224-7336
PrePass: 800-773-7277

---
[wp_ad_camp_2]
| Weigh Station Name | Highway / Route | Mile | Truck Scale Location |
| --- | --- | --- | --- |
| Blichton (Savannah) | I 16 – eb | 144 | Blichton (west of I 95) |
| Blichton (Savannah) | I 16 – wb | 144 | Blichton (west of I 95) |
| Augusta | I 20 – eb | 187.5 | Grovetown |
| Augusta | I 20 – wb | 187.8 | Grovetown |
| Lithia Springs (Atlanta) | I 20 – eb | 42 | Lithia Springs (west of Atlanta) |
| Bremen (Temple) | I 20 – wb | 15 | Bremen (3.8 miles east of US 27) |
| Forsyth (Macon) | I 75 – nb | 190 | Forsyth (north of Macon) |
| Forsyth (Macon) | I 75 – sb | 190 | Forsyth (north of Macon) |
| Ringgold | I 75 – nb | 342.5 | Ringgold |
| Ringgold | I 75 – sb | 342 | Ringgold (.5 miles south of exit) |
| Valdosta | I 75 – nb | 23 | Valdosta (1.6 miles north of exit) |
| Valdosta | I 75 – sb | 23 | Valdosta (1.6 miles north of exit) |
| Jesup | RT 84 – eb wb | | Jesup (southwest of Savannah) |
| La Grange | I 85 – nb | 22.5 | La Grange (just north of I 185) |
| La Grange | I 85 – sb | 22.5 | La Grange (just north of I 185) |
| Carnesville | I 85 – nb | 171 | Lavonia (2.3 miles south of GA 17) |
| Carnesville | I 85 – sb | 169.5 | Lavonia |
| Savannah | I 95 – sb | 110.5 | at the South Carolina border |
| Darien | I 95 – nb | 54 | Darien (about 20 miles north of Brunswick) |
| Darien | I 95 – sb | 54 | Darien (about 20 miles north of Brunswick) |
| Chatsworth (Dalton) | RT 411 – nb | 9.75 | Chatsworth (south of Chatsworth- 2.8 miles north of the 76 east turnoff, 2.5 miles south of the 52 east turnoff) |
| Chatsworth (Dalton) | RT 411 – sb | 9.75 | Chatsworth (south of Chatsworth- 2.8 miles north of the 76 east turnoff, 2.5 miles south of the 52 east turnoff) |