Wyoming Weigh Station & DOT Information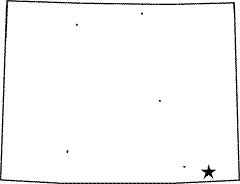 Total Weigh Stations & Truck Scales: 37
If you pull into Wyoming scale you will have to take in your IFTA and registration. They may ask for other documentation as well. If you don't have your IFTA with you or it is lost, you can purchase a temporary IFTA that will get you through the state. Wyoming used to issue a paper permit with the date and time your truck entered Wyoming on it. You had to carry this in your truck while traveling through the state. They no longer do this.
If you have PrePass and get the green, bypass light, you will not have to stop at a Wyoming Port of Entry. If you get the red light or if you do not have PrePass, you will be required to stop. They will weigh your truck and direct you to pull of the scale. You are then required to take your permits into the Port of Entry so they can check them. A green light when you are sitting on the truck scale means you have been weighed. It doesn't mean you can leave the Port of Entry.
PrePass trucks that receive a green light in Wyoming must still enter an open weigh station if they are pulling an oversize/overweight (even permitted) load or a livestock load.
And don't speed through a Wyoming scale. We have been in the office when they pulled a truck inside because he was speeding in the bypass lane. Watch it, boys…
If you're traveling across I 80 in Wyoming, be sure to stop by Little America and the Little America Truck Stop. As far as truck stops go, this is one high class place. They have showers with giant bath tubs that are as nice and fancy as any hotel suite! And the restaurant at the main building is a nice change from the typical truck stop fare. Also on I 80, you can stop in the rest area on the west bound side east of Laramie and see a giant sculpture of President Lincoln. You can see the work of art from the freeway, but it's worth a closer look. On I 90 north west of Sundance, there is the Devil's Tower National Monument. It's worth a sight seeing trip.
Don't let Wyoming roads get the better of you. There are three areas in particular along I 80 you'll want to watch out for in the winter months. West of Fort Bridger, there is a series of hills called the sisters. The steep "down-up, down-up" can be treacherous. Between Rawlins and Laramie is a stretch of freeway truckers refer to as Elk Mountain. They aren't talking about the town of Elk Mountain- they're referring to the miles and miles of hazardous, slick roads that often close the freeway down during bad weather. When the freeway is closed, adventurous truckers can take route 30 around. Route 30 tends to be less ice-covered but can also be quite dangerous. And just east of Laramie is a steep hill called Sherman- east bound it is an uphill grade, west bound it is a downhill grade. If the road crews haven't gotten it clear, it can be quite a scary ride.
These are by no means the only bad spots to watch out for in Wyoming, but they are certainly the most well-known.
The Wyoming fuel tax rate is $0.14 per gallon of diesel fuel. This rate includes a penny per gallon fee for environmental cleanup costs.
Over-Gross Weight Tolerance: Premium Content
Over-Gross Weight Procedures: Premium Content
Interstate Weight Limits: Premium Content
Overweight Fines and Consequences: Premium Content
Blowing By the Scales: Premium Content
Premium Information: Premium Content
Important Phone Numbers:
Motor Vehicle Services: 307-777-4829
Wyoming IFTA: 307-777-4827
Oversize/Overweight Permits: 307-777-4376
State Highway Patrol: 800-442-9090
Road Conditions: 888-996-7623
PrePass: 800-773-7277

---
[wp_ad_camp_2]
| Weigh Station Name | Highway / Route | Mile | Truck Scale Location |
| --- | --- | --- | --- |
| Cody | RT 14 16 20 120 – eb | | Cody |
| Cody | RT 14 16 20 120 – wb | | Cody |
| Gillette | I 90 & RT 14 16 59 – eb | 128 | Gillette (located off of exit 128, route 14 and 16, Gillette) |
| Gillette | I 90 & RT 14 16 59 – wb | 128 | Gillette (located off of exit 128, business 90, Port of Entr) |
| Sundance | I 90 & RT 14 – eb | 189 | Sundance (located off of exit 189, Sundance) |
| Sundance | I 90 & RT 14 – wb | 189 | Sundance (located off of exit 189, Sundance) |
| Basin | RT 16 20 789 – nb | | Basin (north of Worland) |
| Basin | RT 16 20 789 – sb | | Basin (north of Worland) |
| Worland | RT 16 20 789 – nb | | Worland |
| Worland | RT 16 20 789 – sb | | Worland |
| Lander | RT 20 789 287 | | Lander |
| Riverton | RT 20 26 789 | | Riverton |
| Shoshone | RT 20 26 – wb | | Shoshone (at the junction of route 20 and 26) |
| Douglas | I 25 & RT 20 26 87 – nb sb | | Douglas |
| Lusk | RT 20 85 – nb sb | | Lusk |
| Cheyenne | I 25 – nb | 6 | Cheyenne |
| Wheatland | I 25 & RT 287 – nb | | Wheatland |
| Wheatland | I 25 & RT 287 – sb | | Wheatland |
| Alpine (Jackson) | RT 26 – eb wb | | Alpine (1 mile east of ID border) |
| Torrington | RT 26 – eb | | Torrington (2 miles west of US 85) |
| Torrington | RT 26 – wb | | Torrington (2 miles west of US 85) |
| Kemmerer | RT 30 189 – eb sb | 52.5 | Kemmerer (53.2 miles east of the Idaho border at the junction of 189 south and 30 east) |
| Rawlins | I 80 & RT 30 287 – wb | 209.5 | Rawlins |
| Evanston | I 80 – eb | 1 | Evanston (at the UT border) |
| Cheyenne | I 80 – wb | 371.5 | Cheyenne (10 miles east of Cheyenne) |
| Laramie | I 80 & RT 287 – nb sb | | Laramie (POE is marked with a sign at exit 313 on I 80) |
| Cheyenne (Orchard Valley) | RT 85 – nb | | Cheyenne (at Terry Road) |
| Cheyenne (Orchard Valley) | RT 85 – sb | | Cheyenne (at Terry Road) |
| Afton (Grover) | RT 89 – nb | | Afton |
| Afton (Grover) | RT 89 – sb | | Afton |
| Sheridan | I 90 & RT 338 – eb | 16 | Sheridan |
| Sheridan | I 90 & RT 338 – wb | | Sheridan |
| Casper | RT 254 – eb wb | | Casper (1 mile west of the bypass and I 25) |
| Frannie (Powell) | RT 310 – nb | | Frannie (3 miles south of the MT border) |
| Frannie (Powell) | RT 310 – sb | | Frannie (3 miles south of the MT border) |
| Rock Springs | RT 430 | | Rock Springs (4 blocks south of I 80) |
| Rock Springs | RT 191 – nb sb | | Rock Springs |