Oregon Weigh Station & DOT Information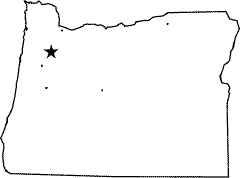 Total Weigh Stations & Truck Scales: 74
Oregon (along with California and Washington) issues CVSA stickers for trucks and trailers that have passed inspections. The stickers are color coded and have cut-outs on the corners. This system allows a DOT officer to look at your windshield and know at a glance if you've passed an inspection and when.
Vehicles over 20,000 lbs are required to enter Oregon weigh stations.
Don't even think about blowing by Oregon weigh stations. Oregon is spending big bucks to install cameras in the roadway- they'll catch you if you just fly on by. You'll get a citation- $427 to $2,500- in the mail and have a court appearance to deal with.
Oregon Senate bill 223 officially allows trucks with APU (auxiliary power units) an extra 400 lbs in their gross weight limits. Oregon complies with the federal ruling and requires written certification of the APU's weight. Oregon motor carrier enforcement officers have been allowing the 400 pound weight exemption since February of 2006. The APU must be in working condition.
Many Oregon weigh stations look like they have PrePass AVI equipment, but Oregon uses what they call Green Pass. It's similar to PrePass, but doesn't use the same signals. If you have PrePass, your transponder may give a signal, but it will always give you the red light.
One of the most notorious hills in trucking is located in Oregon. Cabbage, as it is called, is on I 84 between Pendleton and La Grande. The official name for Cabbage Hill is actually Emigrant Hill, but no one will know what you're talking about if you call it that. West bound truckers will descend about 2,000 feet in 6 miles of switch backs. For anyone who can't figure out what that means… it means that that's one steep hill! Going westbound, truckers will know they are coming up on Cabbage when they pass the Emigrant Hill weigh station. Eastbound truckers will know they are coming up to the upgrade when they pass through Pendleton (you can't miss seeing the big hill in front of you!). Going west bound, truckers are advised to stop in the brake check area at the weigh station to check their brakes. As you come up to the down grade, there is a sign showing recommended speeds based on what your weight is. The heavier you are, the slower you need to go. The hill stretches from mile marker 227 to mile marker 217 and there are truck escape ramps at mile markers 221 and 220.
On I 5 just south of the border to Washington State, truckers can spend some time at the Jubitz Truck Stop. The truck stop is a popular trucking destination because of the quality services it offers for truckers and travelers. The trucker's center (called the Top of the Stop) has showers- including king-size jacuzzi shower rooms, a trucker's lounge and an electronics room. The main building features a movie theater, the Cascade Grill restaurant and the Ponderosa Lounge. The Ponderosa Lounge features country music and live bands on the weekends. The main building also has full-service laundry facilities and an adjacent hotel (the Portlander Inn).
Oregon is one of a few states that does not charge sales tax on retail purchases. So if you need to buy anything and you're headed that way, you may want to put off your purchases until you cross the state line into Oregon. This doesn't go for fuel. Oregon doesn't participate in the IFTA program- they charge a weight-mile tax instead. So any fuel you purchase in Oregon doesn't count toward your IFTA… meaning that if you buy fuel in Oregon rather than in Idaho, California or Washington, you will end up paying more toward your IFTA tax. Be sure to have the permit in the cab at all times when traveling in Oregon- for a new calendar year, there is a grace period on carrying the permit until March, but you need to be sure to have the fuel tax permit renewed.
If you're trying to talk to other truckers on a north/south route like I 5 or route 97, you'll need to switch your cb radio to channel 17. Truckers run channel 17 from Lost Hills, California, to the Canadian border on north/south routes, and channel 19 on east/west routes.
The Oregon fuel tax rate is $0.243 per gallon of diesel. County taxes may be anywhere from $0.01 to $0.03 per gallon and city taxes may be anywhere from $0.01 to $0.05 per gallon. Don't overlook the weight mile tax imposed on truckers traveling through Oregon when you are considering your fueling options.
Over-Gross Weight Tolerance: Premium Content
Over-Gross Weight Procedures: Premium Content
Dodging the Scales: Premium Content
Blowing By the Scales: Premium Content
Important Phone Numbers:
Oregon Permits (After Hours/Holidays): 503-378-6699

---
[wp_ad_camp_2]