Alabama Weigh Station & DOT Information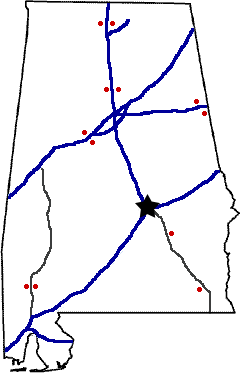 Total Weigh Stations & Truck Scales: 12
Alabama has only one physical weigh station of the traditional type. But they have several other non-traditional scales. These are weigh-in-motion plates in the road. Off to the side of the freeway you will see a building that looks like a shack. The officer will be watching and knows which truck was being weighed and will pull out and pull you over on an off-ramp.
PrePass trucks that receive a green light in Alabama still must enter the open weigh station if they have an oversize/overweight (even permitted) load, livestock load, bulk fuel load, or agricultural load.
The Alabama fuel tax rate is $0.212 per gallon of diesel. Alabama's fuel tax includes a $0.02 per gallon inspection fee. Cities and counties may also tax the fuel sold in their areas- anywhere from $0.005 to $0.06 per gallon of diesel fuel.
Over-Gross Weight Tolerance: Premium Content
Over-Gross Weight Procedures: Premium Content
Interstate Weight Limits: Premium Content
State Route Weight Limits: Premium Content
Overweight Fines and Consequences: Premium Content
Dodging the Scales: Premium Content
Important Phone Numbers:
State Highway Patrol General Info (DPS): 334-242-4371
Overweight/Oversize Permits (ALDOT): 334-242-6358
Motor Carrier Services (IRP/IFTA): 334-242-2999
Trip Permits/Fuel Permits: 334-353-9135
Motor Carrier Safety Unit: 334-242-4395
Motor Carrier Enforcement: 334-242-5775
Alabama Traffic Service Center: 866-954-9399
PrePass: 800-773-7277

---
[wp_ad_camp_2]