Washington Weigh Station & DOT Information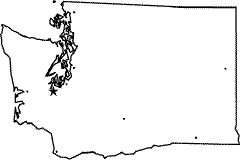 Total Weigh Stations & Truck Scales: 59
Washington (along with Oregon and California) issues CVSA stickers for trucks and trailers that have passed inspections. The stickers are color coded and have cut-outs on the corners. This system allows a DOT officer to look at your windshield and know at a glance if you've passed an inspection and when.
Washington State weigh stations use Norpass transponders rather than PrePass transponders.
Truckers traveling from the Seattle area to middle or eastern Washington State will have to cross the Wenatche Mountain Range which is part of the larger Cascade Mountain Range that extends from British Columbia all the way down to Northern California. Truckers don't refer to it as that- instead, they'll ask on the c.b. radio "what's Snoqualmie doing?" Snoqualmie is the major mountain pass that truckers will cross on I 90. Take Snoqualmie seriously in winter weather conditions. It is one of several roadways in the state of Washinton where truckers are required to carry tire chains from November 1st through April 1st- even if they don't plan to use them.
Other Washington State roadways where trucks that are 10,000 lbs or more are required to carry chains are I 82 from Ellensburg to Selah, Blewett Pass on route 97, Stevens Pass on route 2, White Pass on route 12, Satus Pass on route 97, Chinook Pass on route 410, Sherman Pass on route 20, route 155 from Omak to Nespelem, route 970 from Cle Elum to Teanaway, route 542 (Mount Baker Highway) from mile post 22 to mile post 57.
Trucks that are 10,000 lbs or more that are traveling these roadways during the restricted months are required to carry the minimum required chains plus two extra chains in case the road conditions require more chains.
Truckers headed to Spokane will want to make sure they have their pronunciation right. It's Spokane, rhyming with can, not rhyming with cane. The folks who live there tend to be a bit particular about that!
If you're trying to talk to other truckers on a north/south route like I 5, you'll need to switch your cb radio to channel 17. Truckers run channel 17 from Lost Hills, California, to the Canadian border on north/south routes, and channel 19 on east/west routes.
The Washington fuel tax rate is $0.36 per gallon of diesel. This rate is scheduled to increase by $0.015 per gallon on July 1, 2008.
Over-Gross Weight Tolerance: Premium Content
Overweight Fines and Consequences: Premium Content
Dodging the Scales: Premium Content
Premium Information: Premium Content
Important Phone Numbers:
Winter Road Information: 800-695-7623/511
Motor Carrier Office: 360-704-6340
Commercial Vehicle Division: 360-753-0350
---
[wp_ad_camp_2]
| Weigh Station Name | Highway / Route | Mile | Truck Scale Location |
| --- | --- | --- | --- |
| scalehouse number 66 | RT 2 – nb sb | 302.5 | Chattaroy (9.7 miles north of the route 2, route 395 split) |
| scalehouse number 92 | RT 2 – wb | 105 | Peshastin (.3 miles east of 97 south, 14 miles west of route 285/Wenatche) |
| scalehouse number 60 | RT 2 – eb wb | 262 | Reardan (2.1 miles west of route 231 north, .9 miles east of route 231 south) |
| scalehouse number 31 | RT 2 – eb | mm 21.5 | Sultan |
| scalehouse number 31 | RT 2 – wb | mm 21.5 | Sultan (57.8 miles east of route 9) |
| scalehouse number 33 | I 5 – sb | 235 | Bow Hill |
| scalehouse number 39 | I 5 – sb | 188 | Everett |
| scalehouse number 7 | I 5 – nb | 117.5 | Ft. Lewis (southwest of DuPont) |
| scalehouse number 77 | I 5 – sb | 44 | Kelso (Ostrander) |
| scalehouse number 26 (Tacoma) | I 5 – nb | 140.5 | Sea-Tac |
| scalehouse number 27 (Tacoma) | I 5 – sb | 140.5 | Sea-Tac |
| scalehouse number 72 (Vancouver) | I 5 – nb | 15.5 | Ridgefield |
| scalehouse number 38 | I 5 – nb | 214.5 | Stanwood Bryant |
| scalehouse number 82 | RT 6 – wb | 3 | Raymond |
| scalehouse number 16 | RT 7 – nb | 44 or 49 | Spanaway (southeast of Spanaway) |
| scalehouse number 37 | RT 9 – sb | 17.5 | Lake Stevens (.2 miles south of route 92, 5 miles north of route 2) |
| scalehouse number 20 | RT 12 – eb | 13 | Brady (east of Montesano) |
| scalehouse number 19 | RT 12 – wb | 13 | Brady (east of Montesano) |
| scalehouse number 76 | RT 12 – wb | 100 | Morton |
| scalehouse number 47 | RT 12 | 191 | Rim Rock Naches |
| scalehouse number 51 | RT 12 – wb | 342 | Walla Walla |
| scalehouse number 43 | RT 12 730 – nb sb | 308 | Wallula |
| scalehouse number 74 | RT 14 – eb | 50 | Home Valley |
| scalehouse number 74 | RT 14 – wb | 50 | Home Valley |
| scalehouse number 50 | RT 14 – eb wb | 180 | Plymouth (1 mile west of I 82) |
| scalehouse number 10 | RT 16 – nb | 10 | Gig Harbor |
| scalehouse number 25 | I 90 & RT 18 – wb | 25.5 | North Bend (on the westbound entrance ramp for exit 25, and for route 18 west (you must cross the scale to take 18 west off I 90 west)) |
| scalehouse number 35 | RT 20 – wb | 54 | Anacortes |
| scalehouse number 30 | RT 20 – eb wb | 69 | Sedro Woolley (9.2 miles east of I 5) |
| scalehouse number 48 | RT 24 – eb wb | 43 | Vernita (.8 miles west of route 243, approximately 5 miles east of route 240 east) |
| Rock Island | RT 28 – eb | 9 | Rock Island |
| Rock Island | RT 28 – wb | 9 | Rock Island |
| scalehouse number 94 | RT 28 – wb | 13 | Rock Island |
| scalehouse number 54 | I 82 – wb | 132 | Plymouth |
| scalehouse number 52 | I 90 – eb | 80 | Cle Elum |
| scalehouse number 53 | I 90 – wb | 80 | Cle Elum |
| scalehouse number 64 | I 90 – wb | 299 | Spokane |
| scalehouse number 68 | I 90 – eb | 231 | Tokio (on the eastbound entrance ramp for exit 231) |
| scalehouse number 69 | I 90 – wb | 231 | Tokio (on the westbound entrance ramp for exit 231) |
| scalehouse number 91 | RT 97 – nb sb | 265 | Brewster |
| scalehouse number 75 | RT 97 – nb | 13 | Goldendale |
| scalehouse number 75 | RT 97 – sb | 13 | Goldendale |
| scalehouse number 97 | RT 97 – nb sb | 315 | Tonasket |
| scalehouse number 42 (Toppenish) | RT 97 – nb sb | 57 | Toppenish (5 miles south of WA 22, WA 220 and US 97) |
| Spring Valley | RT 99 | 7 | Spring Valley |
| scalehouse number 12 | RT 101 – nb sb | 77 | Artic (south of Aberdeen) |
| scalehouse number 13 | RT 101 – nb sb | 191 | Forks |
| scalehouse number 11 | RT 101 – sb | 91 | Hoquiam |
| scalehouse number 71 | RT 101 – eb | 57 | Raymond |
| scalehouse number 14 | RT 101 – eb | 237 | West Port Angeles |
| scalehouse number 15 | RT 101 – wb | 255 | East Port Angeles |
| scalehouse number 9 | RT 167 – wb | 5 | Puyallup |
| scalehouse number 65 | RT 395 – sb | 182 | Deer Park (17.9 miles north of the route 395, route 2 split, across from Arlington Road) |
| scalehouse number 67 | RT 395 – nb sb | 239 | Kettle Falls |
| scalehouse number 49 | RT 395 – nb | 32.5 | Pasco (9.2 miles north of Kartchner St, Commercial Avenue exit) |
| scalehouse number 55 | RT 395 – sb | 32.5 | Pasco (9.2 miles north of Kartchner St, Commercial Avenue exit) |
| scalehouse number 18 | RT 410 – eb | 18 or 19 | Buckley |
| scalehouse number 83 | RT 503 – wb | 49 | Woodland |
| Grandview (Prosser) | I 82 | 76 | |