Utah Weigh Station & DOT Information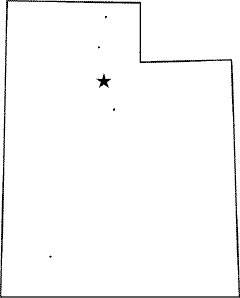 Total Weigh Stations & Truck Scales: 14
All trucks over 10,000 pounds and all commercial vehicles with livestock are required to enter Utah weigh stations. All vehicles with dealer tags are required to stop at the ports of entry.
PrePass trucks that receive a green light in Utah must still enter an open weigh station if they are pulling an oversize/overweight (without a permit) load, a non-divisible oversize or overweight load, a livestock load, or an agricultural load (including bees).
Utah seems to have it all… mountains, the salt flats, winter sports and summer travelers.
Salt Lake City is known by truckers for the construction it seems to always be under. Before the Olympics came to Salt Lake City a few years back, the city was a maze of orange barrels.
Truckers were required to take the downtown bypass route on I 215 rather than running through on I 80. Local cars could take I 80 and then take city streets around the stretch that was closed. Truckers taking I 215 at night would find that the construction crews would randomly close sections of 215, send the traffic off an exit ramp and have no detour signs.
Adding to the confusion was a base station that refused to allow anyone to get directions via the c.b. It was a virtual circus of truckers running around the city.
That didn't end once the I 80 construction was done- they still have very poor signage for construction detours. A trucker needs a good sense of direction to get around without getting lost.
West of Salt Lake City you will pass the Great Salt Lake and encounter the famous salt flats. Along the roadway you will see some rather odd art work- a giant sculpture that resembles an abstract tree with giant orbs on it. You will also see where people have stopped and written their names in the sand or used rocks to spell them out.
East of Salt Lake City is a steep grade up Parley which can be treacherous in winter weather conditions. Many truckers choose to travel through the canyon of I 84 rather than brave the grade.
If you are headed west and want to take the canyon routing, when you come to the I 80 split where you can curve left to follow I 80 or bear right to follow I 84, take I 84. This is exit 162 off of I 80. I 84 will take you through the canyon which is a few stretches of curvy roads and reduced speeds. To get back to I 80 westbound, you will take exit 87 for route 89 south. Follow 89 south up over the hill and it will eventually put you out on I 15 south- there are no turns, just follow route 89. Route 89 has quite a few lights, so don't be surprised by them. 15 south will take you back down toward Salt Lake, but you will want to take I 215 west at exit 313 around to I 80 west.
If you are headed east and want to route through the canyon, take exit 118 off I 80 for I 215 north. I 215 will end at I 15 north. Take that up to the town of Farmington. Route 89 junctions with I 15 for most of the routing, but in Farmington, route 89 will exit off to the right at exit 324. Exit 324 is marked as route 89, I 84 east, to So. Ogden. You'll follow route 89 up over the hill and through many lights. When you come to I 84, take the ramp for east bound I 84. This isn't marked very well- the ramp for I 84 east is about 1/2 mile after the exit for route 60. It is a right hand exit just before the freeway overpass marked "ramp." This will take you through the curvy roads with lower speed limits in the canyon and eventually will end onto I 80 east bound on the other side of Parley's mountain.
The Utah fuel tax rate is $0.245 per gallon of diesel.
Over-Gross Weight Tolerance: Premium Content
Over-Gross Weight Procedures: Premium Content
Over-Axel Weight Tolerance: Premium Content
Over-Axel Weight Procedures: Premium Content
Overweight Fines and Consequences: Premium Content
---
[wp_ad_camp_2]
| Weigh Station Name | Highway / Route | Mile | Truck Scale Location |
| --- | --- | --- | --- |
| Peerless (Price) | RT 6 – eb wb | 231 | Helper (north of Helper) |
| St. George | I 15 – nb | 1 | St. George (2 miles north of AZ border) |
| St. George | I 15 – sb | 1 | St. George (Just north of AZ border) |
| Perry | I 15 84 – nb | 358.5 | Brigham City (3 miles south of Brigham City) |
| Perry | I 15 84 – sb | 358.5 | Brigham City (3 miles south of Brigham City) |
| Daniels (Heber City) | RT 40 – eb | 20 | Heber City (4 miles southeast of Heber City) |
| Loma | I 70 – eb | 14 | Loma, Colorado (12 miles east of CO border) |
| Loma | I 70 – wb | 14 | Loma, Colorado (12 miles east of CO border) |
| Echo | I 80 & RT 189 – wb | 180.5 | Henefer |
| Wendover | I 80 – eb | 3 | Wendover (just east of the Nevada border) |
| Wendover | I 80 – wb | 3 | Wendover (just east of the Nevada border) |
| Kanab | RT 89 – nb | 67 | Kanab (2 miles north of Kanab) |
| Kanab | RT 89 – sb | 67 | Kanab (2 miles north of Kanab) |
| Monticello | RT 666 – eb wb | 2 | Monticello (1 mile east of US 191) |