Oklahoma Weigh Station & DOT Information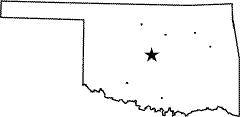 Total Weigh Stations & Truck Scales: 22
Oklahoma plans to revamp 9 weigh stations in the coming years. For many years, truckers have joked that Oklahoma weigh stations keep bankers hours- other than officers who occasionally set up the portables at various locations. The first of these newly renovated weigh stations opened in April 2012. It's located on I 35 near the Kansas border. There are weigh-in-motion scales in the road so think ahead, drivers!
PrePass trucks that receive a green light in Oklahoma must still enter an open weigh station if they are pulling an oversize/overweight (even permitted) load.
Oklahoma weigh stations are NOT run by Oklahoma DOT or the state police. They used to be run by the tax commission- which may have be more appropriate than any other government agency. They are currently run by the Oklahoma Corporation Commission. Officers at the weigh stations are able to perform both paperwork and vehicle inspections. If you are called into an Oklahoma weigh station, be prepared to provide a copy of your lease contract if you are leased to a carrier in addition to your IRP registration, IFTA etc. The Oklahoma Department of Public Safety is in charge of roadside truck inspections and they rarely set up at the actual weigh stations. They tend to perform inspections on the shoulder or set up in a check station/pullout area.
The Oklahoma fuel tax rate is $0.14 per gallon of diesel.
Over-Gross Weight Tolerance: Premium Content
Over-Gross Weight Procedures: Premium Content
Overweight Fines and Consequences: Premium Content
Important Phone Numbers:
Oklahoma State Police: 405-425-2424
Oklahoma Corporation Commission: 405-521-2211
Oklahoma Tax Commission: 405-521-4321
Motor Carrier Enforcement Department: 405-521-2965
Motor Carrier Requirements Department: 405-521-2251
Motor Carrier Safety Department: 405-521-2915
Oklahoma IRP: 405-521-3036
Oklahoma IFTA: 405-521-3246
Pikepass: 405-425-3600/800-745-3727
Severe Weather Hotline: 405-522-5200
Oklahoma Trucking Association: 405-843-9488
PrePass: 800-773-7277

---
[wp_ad_camp_2]
| Weigh Station Name | Highway / Route | Mile | Truck Scale Location |
| --- | --- | --- | --- |
| Okmulgee | RT 75 – sb | | Okmulgee (at the junction of route 62) |
| Sallisaw | I 40 – wb | 312 | Sallisaw (just west of the Oklahoma Welcome Center) |
| Boise City | RT 3 56 64 287 385 – eb | | Boise City (in the panhandle) |
| Boise City | RT 3 56 64 287 385 – wb | | Boise City (in the panhandle) |
| Woodward | RT 3 183 270 – nb | | Woodward (1 mile north of OK 15) |
| Woodward | RT 3 183 270 – sb | | Woodward (1 mile north of OK 15) |
| Davis | I 35 – nb | 53.5 | Davis (3 miles south of OK 7) |
| Davis | I 35 – sb | 53.5 | Davis (3 miles south of OK 7) |
| Tonkawa (Blackwell) | I 35 – nb | 216 | Tonkawa (1.5 miles north of US 60) |
| Tonkawa (Blackwell) | I 35 – sb | 216 | Tonkawa (1.5 miles north of US 60) |
| El Reno | I 40 – eb | 129.25 | El Reno (3.5 miles east of US 81) |
| El Reno | I 40 – wb | 129.25 | El Reno (3.5 miles east of US 81) |
| Erick | I 40 – eb | 13.5 | Erick |
| Erick | I 40 – wb | 13.5 | Erick |
| Tiger Mountain (Henryetta) | I 40 – eb | 251 | east of Henryetta |
| Tiger Mountain (Henryetta) | I 40 – wb | 251 | east of Henryetta |
| Webbers Falls | I 40 – eb | 283 | west of Webbers Falls |
| Webbers Falls | I 40 – wb | 283 | west of Webbers Falls |
| Colbert | RT 69 75 – nb | 3 | Ord (at the Texas border) |
| Colbert | RT 69 75 – sb | 3 | Colbert (at the Texas border) |
| Hugo | RT 271 – nb | | Hugo (at the Texas border) |
| Hugo | RT 271 – sb | | Hugo (at the Texas border) |