North Dakota Weigh Station & DOT Information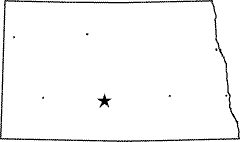 Total Weigh Stations & Truck Scales: 17
All vehicles over 10,000 lbs are required to stop at North Dakota weigh and inspection stations- these are permanent weigh stations or roadside check stations.
There are more cars registered in the state of North Dakota than residents of the state of North Dakota. If you travel late at night, you may be lucky enough to see the northern lights- an amazing display of electrically charged particles that dance across the night sky.
The North Dakota fuel tax rate is $0.23 per gallon of diesel fuel.
---
[wp_ad_camp_2]
| Weigh Station Name | Highway / Route | Mile | Truck Scale Location |
| --- | --- | --- | --- |
| Williston | RT 2 – eb | | Williston (2 miles west of US 85) |
| Williston | RT 2 – wb | | Williston (2 miles west of US 85) |
| Minot | RT 2 52 – wb | | Minot (1 miles east of jct US 52 and US 83) |
| Minot | RT 83 – nb | | Minot (1 miles east of jct US 52 and US 83) |
| Joliette | RT 5 – wb | | Joliette |
| Joliette | I 29 – nb | | Joliette |
| Joliette | I 29 – sb | | Joliette |
| Ellendale | RT 11 281 – nb | | Ellendale (.5 miles north of ND 11 (south of Jamestown)) |
| Ellendale | RT 11 281 – sb | | Ellendale (.5 miles north of ND 11 (south of Jamestown)) |
| Bowman | RT 12 – eb | | Bowman (southwest corner of the state) |
| Bowman | RT 12 – wb | | Bowman (southwest corner of the state) |
| Bowman | RT 85 – nb | | Bowman (southwest corner of the state) |
| Bowman | RT 85 – sb | | Bowman (southwest corner of the state) |
| Mooreton (Wahpeton) | I 29 & RT 13 – nb | | Mooreton (1.5 miles east of Mooreton) |
| Mooreton (Wahpeton) | I 29 & RT 13 – sb | | Mooreton (1.5 miles east of Mooreton) |
| Beach | I 94 – eb | | Beach (.5 miles east of MT border) |
| Fargo | I 94 – wb | | Fargo (10 miles west of MN border, west of Fargo) |