New York Weigh Station & DOT Information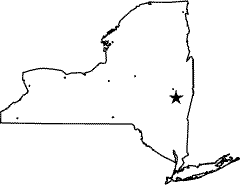 Total Weigh Stations & Truck Scales: 18
New York CVEU (Commercial Vehicle Enforcement Unit) sets up in rest areas- there are no actual weigh station locations with permanent scales and buildings. The CVEU says it does not make a practice of hassling truckers who are parked in the rest area. Though they may ask them to reposition their trucks, they will not require them to actually leave the rest area or submit to inspections.
All vehicles with a gross vehicle weight rating of 10,000 lbs or more are required to stop at New York State inspection points/weigh stations. This also applies to vehicles pulling trailers- if the combined weight of the vehicles is 10,000 lbs or more, New York requires it to stop and submit to inspection and weighing.
Just because you're not at a designated weigh station doesn't mean they haven't weighed you. New York is using weigh in motion detection equipment in the roadways in some areas now to determine which trucks might be overweight. The trucker is then directed to enter the rest area to be weighed by a trooper who is already waiting for him.
New York does not perform vehicle searches unless they have a reason- that is left to officer discretion. They may enter or come close to the cab area to verify air pressure warnings or other inspection-related in-cab items. Unless they see something or have reason to believe there is contraband in the truck, they will not perform a search. Saying "no" to an officer who asks if he can perform a search of the interior of your truck is not considered "probable cause" for an inspection. But the officer may then choose to inspect your mattress, which would require him to enter the sleeper area with a tape measure.
Any trucker who is placed out of service- either due to hours of service regulations or safety violations will not be allowed to leave the rest area until the violations are corrected or the logbook hours sufficient. The CVEU may close up shop and leave, but they are likely to keep an eye on any out-of-service truckers. Whether that means informing local patrols or setting up their own units down the road to watch and wait and see if you leave, if you get caught, it is an arrest and your vehicle will be impounded.
If you are placed out of service on the New York Thruway at a toll booth or check station, the Thruway will require you to get the repairs done in a short period of time. If you cannot get a service truck out to fix you, the Thruway Authority will arrange to have a tow truck (or two if need be) tow you off the toll way.
We have seen New York State Patrol at the toll booths pull over a truck and do a vehicle inspection with chock blocks and a creeper- but we have not seen the portables at the toll booth inspections.
The New York State Thruway now owns Interstate 84 as well as the toll roads. I 84 is not slated to become a toll road. The Thruway had an agreement with the state of New York that they would end the tolls once the bond on the roadway was paid for. Well, when that happened, the Thruway bought I 84 from New York to keep itself in debt- so that they could keep charging tolls.
New York now has signs up that two speeding tickets in a construction zone will result in loss of your license. And if you are caught transporting fireworks in New York, you will lose your vehicle.
The New York fuel tax rate is $0.403 per gallon of diesel. This rate includes a $0.1465 per gallon petroleum business tax and a $0.03 per gallon spill tax. Local and county taxes vary anywhere from $0.03125 to $0.0475 per gallon. Many counties and cities have capped local sales taxes to $0.06 to $0.10 per gallon. The fuel tax rate provided ($0.403/gallon) includes an average of the variable rates of $0.08 per gallon.
Over-Gross Weight Tolerance: Premium Content
Over-Gross Weight Procedures: Premium Content
Over-Axel Weight Tolerance: Premium Content
Overweight Fines and Consequences: Premium Content
Dodging the Scales: Premium Content
Blowing By the Scales: Premium Content
Important Phone Numbers:
State Highway Patrol: 518-436-2825
Overweight/Oversize Permits: 518-457-1155
IRP: 518-473-5595
Trip Permits: 518-473-5595
OSCAR (IRP, IFTA, HUT, SSRS, OW/OS permits): 518-474-7667
NY Thruway: 800-847-8929
EZ Pass: 888-288-6865
Thruway Road Conditions: 800-THRUWAY

---
[wp_ad_camp_2]