New Jersey Weigh Station & DOT Information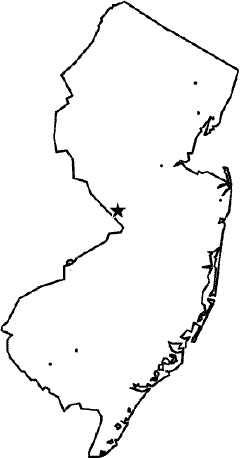 Total Weigh Stations & Truck Scales: 9
New Jersey requires all vehicles that weigh 10,001 lbs or more to weigh. So any vehicle weighing 10,000 lbs or less, commercial or not, is not required to enter the open weigh stations.
New Jersey law used to say that you couldn't get an over gross ticket if you were an out-of-state truck. You could get an over axle only- so if you had a 6 axle combination or a spread axle trailer and you could legally axle weights that were over 80,000 lbs, you wouldn't get a ticket if you were from out of state. New Jersey has changed that law. Now out-of-state truckers can, indeed, get over gross tickets.
The toll roads over on the east coast can be a bit overwhelming. Bridges, toll ways, thruways and more bridges- it all adds us quickly.
Truckers in New Jersey were not allowed to run state routes with a 53-foot trailer, so it seemed that they were stuck with the toll roads. Recent legal battles have been going on about this ruling and it is no longer written in stone.
There are a few stretches of toll road you can easily avoid.
Coming into New Jersey from Delaware, right as you get to the border you will see signs for I 295 and for the New Jersey Turnpike. The road splits- one fork going to I 295 and one to the turnpike (which is the toll road). Follow the signs for I 295. There are some truck stops that can be accessed from either the turnpike or I 295 off turnpike exit 2 and I 295 exit 2C. Going up I 295, you will come to the junction with route 42. The traffic tends to get backed up here- both because of commuter traffic and because the merging of all the traffic gets confusing for unaware travelers. The road will bring you around a curve to the left and shortly after merging with route 42, you will exit back off to the right to follow I 295 north again. On I 295 you can take the exit for route 130 and the Bordentown Petro and get over to the turnpike there or you can continue up to exit 60 for I 195 east. This will take you over to the toll road with all freeway driving. Many truckers choose to run the toll road during high traffic times- though the turnpike also backs up sometimes. To go southbound from the turnpike take I 195 west to I 295 south all the way to the bottom. As mentioned about the north bound route, be careful around the junction of route 42 where traffic gets congested.
The bridges coming into New Jersey are non-toll, but leaving New Jersey can be very expensive. To leave New Jersey without a toll, head to Trenton. From the New Jersey Turnpike take I 195 west. I 195 ends at the junction of I 295, but the freeway doesn't end there, so keep your eyes peeled. You'll stay right and take I 295 north (if you continue straight you'll be on route 29 heading into downtown Trenton). I 295 curves you around the north side of Trenton and brings you around to I 95 south (I 95 is somewhat confusing in this part of the country). You don't exit, merge, or bear. You just keep going straight and you'll be where you need to be. I 95 south will take you down through Philly- you can hit the PA turnpike or continue south on I 95 toward Delaware. Keep in mind that I 95 through downtown Philadelphia may not be the most pleasant drive during high traffic times. Also keep in mind that Pennsylvania likes to use rest area/welcome centers as weigh stations at non-toll border crossings.
In New Jersey and New York, the rule is NO TRUCKS ON PARKWAYS. Trucks are to use expressways, not parkways. Parkways have low bridges and no commercial vehicles or trailers are allowed in most places. The Garden State Parkway in New Jersey south of the Jersey City area does allow trucks. Traveling from the Jersey City area to Atlantic City, trucks are allowed on the GSP from exit 105 (route 18) south. Route 18 from the turnpike to the GSP has a lot of lights and a lot of traffic, so truckers may want to consider running the turnpike down to I 195 east and hitting the GSP that way. Don't forget, the GSP is also a toll road.
The New Jersey fuel tax rate is $0.175 per gallon of diesel. This rate includes a $.04 per gallon gross receipts tax.
Over-Gross Weight Tolerance: Premium Content
Over-Axel Weight Tolerance: Premium Content
Overweight Fines and Consequences: Premium Content
Important Phone Numbers:
State Highway Patrol: 609-882-2000
Commercial Carrier Safety: 609-452-2601
Overweight/Oversize Permits: 609-633-9402
IRP: 609-633-9399
Trip Permits: 609-633-9400/609-633-9399
NJ Turnpike/GSP: 732-750-5300
EZ Pass: 888-288-6865

---
[wp_ad_camp_2]