Nevada Weigh Station & DOT Information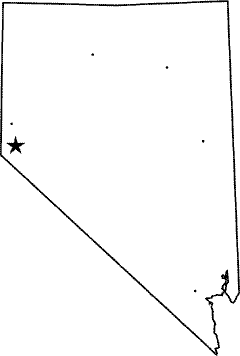 Total Weigh Stations & Truck Scales: 7
Truckers who travel the rural areas of Nevada (basically anywhere outside of Reno and Las Vegas) will see a number of ranches- where legalized prostitution is practiced. Many of these establishment will advertise their services on the c.b. radio, touting, "free conversation with no obligation." They often also offer free meals and showers.
Truckers will find casinos all across the state of Nevada- and almost every casino will allow truck parking. Most truck stops have slot machines and some even have casino tables for card games.
You can spend a lot of money in the casinos- but it can be a nice change from the truck stops. In northeastern Nevada, Wendover has several casinos and a Pilot truck stop with diesel. You can park in the huge truck parking area and take a shuttle to any of the casinos. They also provide a driver's lounge for the truckers in the truck parking lot with showers and television- and you can sign up to get half-off a buffet meal or a two-for-one buffet for team drivers.
Don't take Nevada weather for granted when you're driving. Nevada has several spots where chains may be required on tires in winter. In the summer, a trucker who breaks down will need a lot of water and shade to try to keep cool.
The major population centers are in Las Vegas and the Reno area, so truckers traveling in between or elsewhere will go far and long between services.
You will not find any truck weigh stations marked on the commercial vehicle atlas and we don't know why that is. According to long-time driver Dave B., it's because Nevada doesn't have any official weigh stations. Official or not, though, there are weigh stations in Nevada and truckers shouldn't assume that they'll be closed. These weigh stations and check stations are used- Nevada tends to keep them closed for long periods and then run a sort of sting operation and pull in as many truckers for inspections as they can handle at one time.
On Nevada Interstates, truckers can cut loose and run fast. Many areas have the speed limit set at 75 mph. Turn of the c.b., set the cruise control, and git 'er done! Because once you cross the border into California, you'll be cut back to 55 mph!
Truckers heading to Las Vegas from southern California on a Friday night or heading to southern California from Las Vegas on a Sunday night (or Monday night of a holiday weekend) will find out just how popular Las Vegas is. I 15 has 2 lanes in each direction on the way except the steep grades- north and south of Bakersfield- where they allow an extra slow vehicle lane. Truckers who are traveling with the Las Vegas weekenders may want to stop at Barstow or at Whiskey Pete's on the California border to let the traffic pass. It can be very stressful. The four wheelers tend to be in a hurry and will pull stupid tricks to get around us lumbering big rigs!
The Nevada fuel tax rate is $0.286 per gallon of diesel.
Important Phone Numbers:
Department of Public Safety: 775-684-4808
Nevada Department of Transportation: 775-888-7115
Overdimensional Permits: 775-888-7410/800-552-2127
Commercial Vehicle Enforcement: 702-486-4100

---
[wp_ad_camp_2]
| Weigh Station Name | Highway / Route | Mile | Truck Scale Location |
| --- | --- | --- | --- |
| Sparks (Fernley) | I 80 – wb | 24.5 | east of Reno |
| Verdi (Reno) | I 80 – wb | 7 | west of Reno |
| Elko | I 80 – eb | 312.5 | between Elko and Halleck (east of Elko) |
| Elko | I 80 – wb | 312.5 | between Elko and Halleck (east of Elko) |
| Sloan (Las Vegas) | I 15 – nb | 25.5 | Las Vegas (south of Las Vegas) |
| Las Vegas | I 15 – sb | 61 | Las Vegas (north of Las Vegas) |
| Verdi (Reno) | I 80 – eb | 4 | Verdi (at the California border) |