Nebraska Weigh Station & DOT Information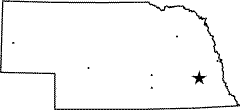 Total Weigh Stations & Truck Scales: 17
Trucks that weigh more than 10,000 lbs gross and pickup trucks that are pulling trailers must weigh at Nebraska weigh stations. RVs don't.
PrePass trucks that receive a green light in Nebraska must still enter an open weigh station if they are pulling an oversize/overweight (even permitted) load.
Nebraska has a museum that crosses over the I-80 freeway at mile marker 275 called the Archway Museum. There are big fines for travelers who stop to take pictures of the sight. You can take exit number 272 (Great Platte River Road) and go to visit the museum instead.
In western Nebraska, you can visit one of the original Cabella's stores. These days there are Cabella's stores popping up everywhere, but for years, truckers would plan a stop in at exit 59 on I 80 in Sidney, Nebraska, to buy outdoor and winter gear. The Sidney, Nebraska, store has ample truck and RV parking.
The Nebraska fuel tax rate is $0.233 per gallon of diesel. This rate includes $0.003 per gallon release prevention fee. Nebraska's fuel tax rate is variable. It has a base rate of $0.125 per gallon plus a variable rate of $0.10 per gallon. This variable rate was reduced $0.04 per gallon on January 1, 2008.
Over-Gross Weight Tolerance: Premium Content
Over-Gross Weight Procedures: Premium Content
Over-Axel Weight Tolerance: Premium Content
State Route Weight Limits: Premium Content
Overweight Fines and Consequences: Premium Content
---
[wp_ad_camp_2]
| Weigh Station Name | Highway / Route | Mile | Truck Scale Location |
| --- | --- | --- | --- |
| Nebraska City | RT 2 – eb | | Nebraska City (3 miles west of Nebraska City) |
| Nebraska City | RT 2 – wb | | Nebraska City (3 miles west of Nebraska City) |
| Waverly (Lincoln) | RT 6 – eb wb | 327.5 | Waverly (1.5 miles northeast of Waverly) |
| Laurel | RT 20 15 59 – nb sb | 394 | Laurel (at the junction of route 20, 15 and 59, 5.7 miles east of the route 57/59 junction, 5.3 miles west of route 116 on route 20) |
| O'Neil | RT 20 275 – eb | | Stafford (5 miles southeast of Inman) |
| O'Neil | RT 20 275 – wb | | 5 miles southeast of Inman |
| North Platte | RT 30 – eb wb | | North Platte (1 mile east of route 56 G Link on route 30 (on the south side of the roadway)) |
| Plattsmouth | RT 73 75 – nb | | Plattsmouth (3 miles north of Plattsmouth) |
| Winslow (Fremont) | RT 77 – nb sb | 123 | Winslow (south of US 275) |
| Wahoo | RT 77 92 – nb sb eb wb | | Wahoo (2 miles northeast of Wahoo) |
| Waverly East I 80 (Lincoln) | I 80 – eb | 415 | Greenwood |
| Waverly West I 80 (Lincoln) | I 80 – wb | 415 | Greenwood |
| North Platte | I 80 – eb | 180.5 | North Platte (3 miles east of North Platte) |
| North Platte | I 80 – wb | 180.5 | North Platte (3 miles east of North Platte) |
| Hebron Expressway | RT 81 – nb | | Hebron (4 miles south of Hebron) |
| Hebron Expressway | RT 81 – sb | | Hebron (4 miles south of Hebron) |
| Hebron | RT 136 | | Hebron |