Montana Weigh Station & DOT Information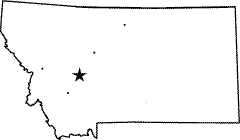 Total Weigh Stations & Truck Scales: 40
All vehicles except passenger cars and pickup trucks under 14,000 lbs are required to stop at open Montana Weigh Stations. Recreational vehicles are not required to stop unless they are in transit for delivery to a distributor or dealer. Any vehicle that weighs more than 10,000 lbs may be stopped for inspection and weighing at portable scale locations.
PrePass trucks that receive a green light in Montana must still enter an open weigh station if they are pulling an oversize/overweight (even permitted) load, an overwide load (greater than 9 feet wide), an overheight load (greater than 14'6"), or a fuel tanker (loaded or empty).
Don't mess with Montana when it comes to logs. They are a watch dog state. Our worst DOT experience ever was at the Crow Agency scale. The DOT officer decided he was going to find something wrong- no matter what. When someone scrutinizes your paperwork with that kind of attitude, you can be sure he WILL find something wrong. For the 15-minute discrepancy between a receipt and the log, we had to pay somewhere around $100 on the spot.
Tri-axle trailers with single tires (a total of 6 tires rather than 12 for duals) are only allowed 33,000 lbs in Montana.
The Montana fuel tax rate is $0.286 per gallon of diesel. This rate includes $0.0075 per gallon for the state cleanup fund.
Over-Gross Weight Tolerance: Premium Content
Over-Axel Weight Tolerance: Premium Content
Overweight Fines and Consequences: Premium Content
Important Phone Numbers:
State Police: 406-444-3780
Motor Carrier Services Division HQ: 406-444-6130 or 406-444-7262
Motor Carrier Safety Assistance Program: 406-444-3300
Montana Motor Carrier Association: 406-442-6600
PrePass: 800-773-7277

---
[wp_ad_camp_2]