Missouri Weigh Station & DOT Information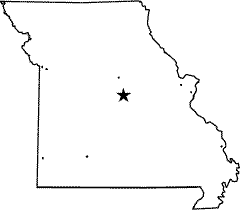 Total Weigh Stations & Truck Scales: 31
Missouri has 158 Commercial Vehicle Enforcement Officers around the state running 24 official weigh stations and 24 sets of portables. There are 10 CVE officers who are certified to perform Level VI inspections on vehicles carrying spent nuclear fuel shipments.
All vehicles that have a registered weight of 18,001 pounds or more are required to enter the Missouri weigh stations when they are open. If a vehicle is licensed for 18,000 pounds or less, they do not have to stop. However, police or commercial vehicle enforcement may choose to stop a vehicle with a lower weight rating at their discretion.
PrePass trucks that receive a green light in Missouri must still enter an open weigh station if they are pulling an oversize/overweight (even permitted) load.
Trucks in Missouri are required to be less than 14 feet tall. They can be up to 15 feet tall if they are traveling exclusively withing commercial zones as defined by Missouri statute 304.190, RSMo.
The maximum weight allowed in Missouri per axle is 20,000 pounds on the interstate and 22,000 pounds on non-interstate roads. The maximum weigh allowed per tandem is 34,000 pounds on the interstate and 36,000 pounds on non-interstate roads. This applies to roads that are not marked with lower weight restrictions.
The home of Shoji in Branson, Missouri! While we may not be able to find truck parking and go see the show- every trucker knows the billboards along I 44. I 44 used to have some of the worst stretches interstate (along with highways in Louisianna and Arkansas) but in recent years, Missouri has really smoothed out the bumps.
The Missouri fuel tax rate is $0.176 per gallon of diesel fuel.
Over-Gross Weight Tolerance: Premium Content
Over-Gross Weight Procedures: Premium Content
Over-Axel Weight Tolerance: Premium Content
Over-Axel Weight Procedures: Premium Content
Overweight Fines and Consequences: Premium Content
Dodging the Scales: Premium Content
Blowing By the Scales: Premium Content
Important Phone Numbers:
State Highway Patrol General Headquarters: 573-751-3313
Road Conditions: 888-275-6636
DOT Motor Carrier Services: 573-751-3358/866-831-6277
DOT Special Permits Section: 573-751-2871
Overweight/Overdimension Permits: 573-751-7100/866-831-6277
Commercial Vehicle Enforcement: 573-526-6128
PrePass: 800-773-7277

---
[wp_ad_camp_2]
| Weigh Station Name | Highway / Route | Mile | Truck Scale Location |
| --- | --- | --- | --- |
| Platte City | I 29 – nb | 24 | Platte City |
| Platte City | I 29 – sb | 24 | Platte City |
| Watson | I 29 – nb | 121 | Watson |
| Watson | I 29 – sb | 121 | Watson |
| Eagleville | I 35 – nb | 110 | Eagleville |
| Eagleville | I 35 – sb | 110 | Eagleville |
| Kearney | I 35 – nb | 22 | Kearney |
| Kearney | I 35 – sb | 22 | Kearney |
| St. Joseph | RT 36 – eb | | St. Joseph (2 miles east of St. Joseph) |
| St. Joseph | RT 36 – wb | | St. Joseph (2 miles east of St. Joseph) |
| Joplin | I 44 – eb | 2.5 | Joplin |
| Joplin | I 44 – wb | 2.5 | Joplin |
| Springfield | I 44 – eb | 90 | Springfield |
| St. Clair | I 44 – eb | 238 | St. Clair (west of route 30) |
| St. Clair | I 44 – wb | 238 | St. Clair (west of route 30) |
| Lone Jack | RT 50 – eb | | Lone Jack (1 mile east of hwy E) |
| Lone Jack | RT 50 – wb | | Lone Jack |
| Barnhart | I 55 – nb | 184.5 | Barnhart |
| Barnhart | I 55 – sb | 184.5 | Barnhart |
| Steele | I 55 – nb | 9.8 | Steele (south east corner of the Missouri) |
| Charleston | I 57 – nb | 18.5 | Charleston (just south of the Mississippi River bridge) |
| Charleston | I 57 – sb | 18.5 | Charleston (west of the Mississippi River bridge) |
| Willow Springs | RT 60 63 – eb | 204 | Willow Springs |
| Willow Springs | RT 60 63 – wb | 204 | Willow Springs |
| Mayview | I 70 – wb | 43 | Mayview |
| Mayview | I 70 – eb | 43 | Mayview |
| Foristell | I 70 – eb | 204.5 | Foristell |
| Foristell | I 70 – wb | 204.5 | Foristell |
| Harrisonville | RT 71 – nb | | Harrisonville (.5 miles north of route 7) |
| Harrisonville | RT 71 – sb | | Harrisonville (.5 miles north of route 7) |
| Caruthersville | I 155 – wb | 8 | Caruthersville (Caruthersville, MO 63830) |