Mississippi Weigh Station & DOT Information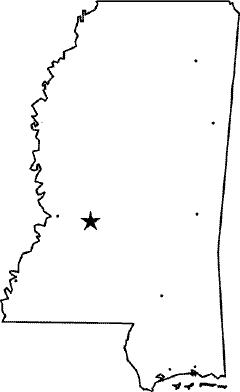 Total Weigh Stations & Truck Scales: 41
PrePass trucks that receive a green light in Florida must still enter an open weigh station if they are pulling an oversize/overweight (even permitted) load except manufactured housing haulers approved by MS DOT. Private carriers transporting taxable petroleum products must also enter an open Mississippi weigh station.
The height limitation for Mississippi is 13 ft 6 inches. However, Section 63-5-17 reads:
No person, firm, or corporation of the State of Mississippi, or any subdivision thereof, shall be required to raise, alter, construct, or reconstruct any underpass, wire, pole, trestle, or other structure to permit the passage of any vehicle having a height, unladen, or with a load, in excess of twelve feet and six inches. Full liability for damage to any structure caused by any vehicle having a height in excess of twelve feet six inches, shall be bourne entirely by the motor carrier or operator of the vehicle.
Car haulers beware!
The Mississippi fuel tax rate is $0.188 per gallon of diesel. This rate includes a $0.004 per gallon environmental protection fee. There is an additional $0.03 seawall tax per gallon in Hancock, Harrison and Jackson counties.
Over-Gross Weight Tolerance: Premium Content
Interstate Weight Limits: Premium Content
State Route Weight Limits: Premium Content
Overweight Fines and Consequences: Premium Content
Dodging the Scales: Premium Content
Blowing By the Scales: Premium Content
---
[wp_ad_camp_2]
| Weigh Station Name | Highway / Route | Mile | Truck Scale Location |
| --- | --- | --- | --- |
| Bay Saint Louis | I 10 – eb | | 1 mile east of LA border |
| Bay Saint Louis | I 10 – wb | .7 | 1 mile east of LA border |
| Pascagoula | I 10 – eb | 74 | |
| Pascagoula | I 10 – wb | 75 | |
| Walnut | RT 15 72 – nb sb | | Walnut (4 miles south of TN border, west of Corinth) |
| Bovina (Vicksburg) | I 20 – eb | 8 | Bovina (8 miles east of LA border) |
| Bovina (Vicksburg) | I 20 – wb | 10 | Bovina (10 miles east of LA border) |
| Kewanee (Meridian) | I 20 59 – eb | 170.5 | Kewanee (2 miles west of AL border) |
| Kewanee (Meridian) | I 20 59 – wb | 170.5 | Kewanee (2 miles west of AL border) |
| Centreville | RT 33 24 | | Centreville (jct MS 33 and MS 24 in the southwest corner of the state) |
| Sandy Hook | RT 35 – nb | | Sandy Hook (1 mile north of LA border, south of Columbia) |
| Sandy Hook | RT 35 – sb | | Sandy Hook (1 mile north of LA border, south of Columbia) |
| Corinth | RT 45 bypass – nb | | Corinth (2 miles south of TN border) |
| Corinth | RT 45 bypass – sb | | Corinth (2 miles south of TN border) |
| State Line | RT 45 bypass – wb | | State Line (route 45 at the Alabama border) |
| Lula (Helena AR) | RT 49 – eb wb | | Lula (Just east of AR border, .5 miles west of route 1) |
| Richland (Jackson) | RT 49 – sb | | Richland (1.4 miles south of I 20) |
| Nesbit (Memphis TN) | I 55 – nb | 285.5 | Nesbit (7 miles south of TN border) |
| Nesbit (Memphis TN) | I 55 – sb | | Nesbit (7 miles south of TN border) |
| Osyka | I 55 – nb | | Osyka (2 miles north of LA border) |
| Osyka | I 55 – sb | | Osyka (2 miles north of LA border) |
| Nicholson (Picayune) | I 59 – nb | 1 | Nicholson (1 mile north of LA border) |
| Nicholson (Picayune) | I 59 – sb | 1 | Nicholson (1 mile north of LA border) |
| Walls (Memphis TN) | RT 61 – nb | | Walls (5 miles south of TN border) |
| Walls (Memphis TN) | RT 61 – sb | | Walls (5 miles south of TN border) |
| Woodville | RT 61 – nb | | Woodville (1 mile north of LA border in the southwest corner of the state) |
| Woodville | RT 61 – sb | | Woodville (1 mile north of LA border in the southwest corner of the state) |
| Natchez | RT 61 84 98 – nb | | Natchez (6 miles east of LA border) |
| Natchez | RT 61 84 98 – sb | | Natchez (6 miles east of LA border) |
| Crossroads (Bogalusa LA) | RT 26 – eb wb | | Crossroads (north of Picayune) |
| Iuka | RT 72 – wb | | Iuka (2.5 miles west of AL border) |
| Olive Branch (Memphis TN) | RT 78 – wb | 3.5 | Olive Branch (3.5 miles south/east of TN border) |
| Olive Branch (Memphis TN) | RT 78 – eb | 3.5 | Olive Branch (3.5 miles south/east of TN border) |
| Fulton (Tupelo) | RT 78 – eb | | Fulton (14 miles west of AL border) |
| Fulton (Tupelo) | RT 78 – wb | | Fulton (14 miles west of AL border) |
| Kewanee (Meridian) | RT 80 – eb | | Kewanee (1 mile west of AL border) |
| Greenville | RT 82 – eb | | Greenville (.5 miles east of AR border) |
| Greenville | RT 82 – wb | | Greenville (1 mile east of AR border) |
| Lucedale | RT 98 – eb | | Lucedale (6 miles west of AL border) |
| Lucedale | RT 98 – wb | | Lucedale (6 miles west of AL border) |
| Iuka | RT 72 – eb | | Iuka (2.5 miles west of the Alabama border) |