Louisiana Weigh Station & DOT Information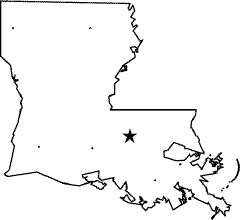 Total Weigh Stations & Truck Scales: 22
Louisiana uses PrePass and lighted signs on the road. They have weigh-in-motion on the freeway and the signs will light up as the truck goes by to say TRUCK MUST EXIT TO WEIGH STATION or TRUCK OK TO BYPASS. I have found that the lighted signs almost always give me the opposite instructions of what my PrePass transponder tells me.
PrePass brochures state that you are supposed to follow the in-cab signals from your transponder no matter what the road sign weigh station signs say.
PrePass trucks that receive a green light in Louisiana must still enter an open weigh station if they are pulling an oversize/overweight (even permitted) load.
The recent damage and destruction from Hurricane Katrina have changed the landscape of Louisianna. On various roadways you will see the left overs from Katrina's rage. There are still some locations where shrimp boats and the like are at the edge of roadways- hundreds of feet from any waterways they may have formerly traveled.
Cajuns still compose the local heritage, however. Gumbo and fried alligator are definitely on the menu.
And it seems that the devistation from Katrina has not put a damper on the wild antics surrounding Mardi Gras and other celebrations in the area.
The Louisiana fuel tax rate is $0.20 per gallon of diesel.
Overweight Fines and Consequences: Premium Content
Dodging the Scales: Premium Content
Blowing By the Scales: Premium Content
Important Phone Numbers:
Permits Office: 225-343-2345, 800-654-1433
Weight Enforcement Office: 225-377-7100 (7:45 am – 4:15 pm weekdays)
---
[wp_ad_camp_2]