Kansas Weigh Station & DOT Information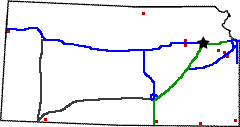 Total Weigh Stations & Truck Scales: 12
Kansas means miles and miles of sunflowers- truly an amazing site if you drive through at the right time of year. People think of Kansas as being flat- but any trucker knows that Kansas is a true up and down state. They aren't mountains, but if the cruise control isn't working, it can be a challenge to maintain speed.
PrePass trucks that receive a green light in Kansas must still enter an open weigh station if they are pulling an oversize/overweight (even permitted) load except LCVs operating with a KIA permit- South Haven site only.
The Kansas fuel tax rate is $0.27 per gallon of diesel fuel. This rate includes a 1 penny per gallon environmental fee.
Over-Gross Weight Tolerance: Premium Content
Overweight Fines and Consequences: Premium Content
Dodging the Scales: Premium Content
Blowing By the Scales: Premium Content
Important Phone Numbers:
PrePass: 800-773-7277
DMV Motor Carrier Division: 785-271-3145
Kansas Corporation Commission: 785-271-3145
Kansas Trucking Connection (permits/information): 785-271-3145

---
[wp_ad_camp_2]
| Weigh Station Name | Highway / Route | Mile | Truck Scale Location |
| --- | --- | --- | --- |
| Station 5A | I 70 – wb | | Kansas City (east of the toll gates) |
| Station 17A | RT 96 | | Crestline (junction of KS 96 and US 69a) |
| Station 21W | I 70 – wb | 329.5 | Wabaunsee (1 mile west of McFarland) |
| Station 22W | I 70 – eb | 329.5 | Wabaunsee (1 mile west of McFarland) |
| Station 23 | RT 75 | | Caney (state line) |
| Station 23W (Olathe) | I 35 – nb | 213 | Olathe (5 miles south of Olathe) |
| Station 24W (Olathe) | I 35 – sb | 213 | Olathe (5 miles south of Olathe) |
| Station 26A | I 35 | | South Haven (south end of turnpike) |
| Station 37A | RT 54 | | Liberal (5 miles east of Liberal) |
| Worden | RT 56 59 | | Worden (at the junction of route 56 and 59 (between Lawrence and Ottawa)) |
| Station 46 | I 70 – eb | 0.5 | Kanorado (near Colorado border) |
| Station 58 | | | Belleville |