Iowa Weigh Station & DOT Information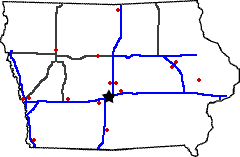 Total Weigh Stations & Truck Scales: 20
PrePass trucks that receive a green light in Iowa must still enter an open weigh station if they are pulling an oversize/overweight (even permitted) load.
Walcott, Iowa, is a trucker vacation destination. Okay, maybe it's not a vacation destination, but there are plenty of truckers who plan on stopping in Walcott.
Walcott is home to the "World's Largest Truck Stop" according to the Iowa 80 truck stop- now a T.A. travelcenter. The truck stop has one of the largest in-stock chrome shops in the country. There is a truck shop and truck was on the premises. The Iowa 80 has a Trucking Hall of Fame adjacent to it- a 21,000 some foot warehouse with almost 30 antique trucks on display.
Each year, the truck stop holds the Iowa 80 Trucker's Jamboree- a truck show with exhibitors and show truck contest. In 2006, there were more than 200 antique trucks on display for the event and more than 30,000 people came to experience it! In 2007, the Iowa 80 Trucker's Jamboree is scheduled for July 12-13. To contact the Iowa 80 truck stop, call 866-4IOWA80. It is located off I 80 at exit 284, just west of the Quad-Cities in Iowa.
The CAT scale company headquarters is located near the Iowa 80 truck stop in Walcott, also. CAT scale has a reputation for being the most widespread, the most reliable, and the easiest to acess of all truck stop weighing scales.
Not too far from Walcott is the town of Riverside, Iowa. Known to Star Trek fans as "the future home of Captain James T. Kirk," Riverside was the site for a recent miniseries starring William Shatner. The show followed Shatner's film crew through the filming of a fake movie- one the town's residents and the locals who were picked to star in the movie didn't know was fake. Sounds dumb, but anyone with a twisted sense of humor who watched the show from the beginning got a lot of laughs out of it. The series, called Invasion Iowa, is not available on DVD but it can be found online for (legal and paid for) downloads.
Truckers traveling I 80 around exit 225 will see signs for "The Amana Colonies." This is a group of 7 villages that were founded as a religious commune. The villages were designed by the original settlers to mirror 19th century German villages. These are not Amish communities and they are no longer communal. For generations, the townspeople shared their earnings, but in 1932, the Amana Colonies stopped living as a commune.
The highest point in Iowa is located in the north west corner of the state on route 1670 at Hawkeye Point.
The Iowa fuel tax rate is $0.235 per gallon of diesel fuel.
Over-Gross Weight Tolerance: Premium Content
Over-Axel Weight Tolerance: Premium Content
Overweight Fines and Consequences: Premium Content
Dodging the Scales: Premium Content
Important Phone Numbers:
State Highway Patrol: 515-281-5824
Overweight/Oversize Permits: 515-237-3264
IRP: 515-237-3268
DOT General Number: 800-925-6469
PrePass: 800-773-7277

---
[wp_ad_camp_2]
| Weigh Station Name | Highway / Route | Mile | Truck Scale Location |
| --- | --- | --- | --- |
| Cedar | I 80 – wb | 268.5 | near Wilton |
| Dallas (Des Moines) | I 80 – eb | 115 | east of Van Meter |
| Jasper (Des Moines) | I 80 – wb | 150.75 | east of Mitchelville |
| Mechanicsville | RT 30 | | east of Mount Vernon |
| Clarke North | I 35 – nb | 31 | south of Osceola |
| Brandon North | I 380 – nb | | south of Waterloo |
| Brandon South | I 380 – sb | | south of Waterloo |
| Story North | I 35 – nb | 106 | south of Ames |
| Agency | RT 34 16 – eb wb | 199.25 | on the SE corner of the junction of routes 34 and 16, 11.1 miles east of route 63 north, 14.9 miles west of route 1 |
| Worth South | I 35 | | south of Northwood |
| Ogden | RT 30 | | west of Ogden |
| Fremont | I 29 | | Fremont county |
| MO Valley North | I 29 – nb | 73 | north of the Loveland exit |
| MO Valley North | I 29 – sb | 73.5 | north of the Loveland exit |
| Glenwood | RT 34 275 – nb sb | | junction of route 34 and route 275, 8.2 miles east of I 29, 14.2 miles west of route 59- the scale is .1 mile south of route 34 on route 275 |
| LeMars | RT 75 | | LeMars |
| Avoca | I 80 – wb | 44 | east of Avoca |
| Story South | I 35 – sb | 106 | south of Ames |
| Salix South | I 29 – sb | 132.5 | Salix (south of Sioux City) |
| Early | RT 71 | | south of Storm Lake |