Indiana Weigh Station & DOT Information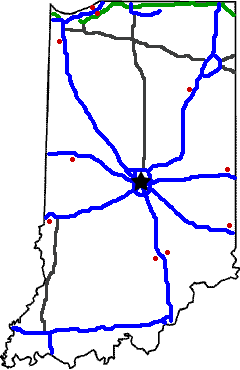 Total Weigh Stations & Truck Scales: 10
All trucks are required to enter an Indiana weigh station if it's open. This includes pickup trucks with trailers and rental trucks of all sizes and weights.
PrePass trucks that receive a green light in Indiana must still enter an open weigh station if they are pulling an oversize/overweight (even permitted) load.
Indiana is a split speed limit state. Trucks traveling in Indiana are limited to 65 mph while cars are allowed 70 mph. There is current controversy surrounding the Indiana toll roads. It's possible the toll roads will be sold to foreign investors, but the final decisions and deals have yet to be made.
If you get a ticket for not having a logbook or for having an inadequate logbook in Indiana, it will cost you $199.00. If you ticket for not wearing a seat belt, it will cost you $120.00.
Indiana state police are required by Indiana Code 9-20-17-1 to make at least 25 weight checks per officer per week.
The Indiana fuel tax rate is $0.448 per gallon of diesel. This includes a 6% sales tax and penny per gallon inspection fee. Indiana has a $0.11 per gallon surcharge on diesel that is paid quarterly on a self-reporting basis.
Over-Gross Weight Tolerance: Premium Content
Overweight Fines and Consequences: Premium Content
Important Phone Numbers:
State Highway Patrol: 317-899-8577
Overweight/Oversize Permits: 317-615-7200
IRP: 317-782-4815
Trip Permits: 317-615-7200
DOT General Number: 317-232-5533
General Trucking Info: 317-615-7373
PrePass: 800-773-7277
Road Conditions (winter only): 800-261-7623

---
[wp_ad_camp_2]