Florida Weigh Station & DOT Information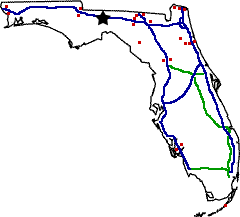 Total Weigh Stations & Truck Scales: 41
Florida weigh stations are modern wonders. They have a sophisticated weigh-in-motion system that let's you fly through them (unless, of course, you are overweight or one of the lucky few to be chosen for a random inspection). They use PrePass. If you don't have PrePass or if you get the red light, you are likely to get the arrow for the bypass lane where the speed limit is usually 35 mph or even 45 mph. If you are directed to the static scale (where you have to stop to be weighed), their computers inform the officers inside what your exact weights- gross and axle- are.
Florida truck scales also generally have driver facilities including bathroom facilities and pay phones- Florida DOT says some of these facilities have showers available. They call them "comfort stations," though we don't know any drivers who are truly comfortable when parked in a weigh station.
According to Florida DOT, drivers who park in the weigh stations will NOT be hassled in any way. A driver can park without having to worry that a DOT officer is going to ask for his logbook or perform a vehicle inspection on his truck when he gets up. If, however, an officer notices an obvious violation- such as a flat tire or cracked rim, the driver will be notified after he gets up and will need to have repairs made.
All commercial vehicles are required to cross the weigh stations in Florida- no matter how small the vehicle is. Anyone renting a truck for personal use is not required to cross the scales, but the weigh masters suggest that rental trucks go ahead and exit at the weigh stations. The scale masters can't tell whether a rental truck is being used commercially or not, so they may chase down a rental truck that passes by the scale without stopping. Generally, a rental truck that obeys the weigh station speed limit will be directed into the bypass lanes and return to the freeway.
PrePass trucks that receive a green light in Florida must still enter an open weigh station if they are pulling an oversize/overweight (even permitted) load.
In addition to weigh stations, Florida uses Agricultural Inspection Stations. These are normally a few miles before or after the weigh stations. Drivers with PrePass can be set up for preclearance (though you are required to stop if you have agriculture on- even if you get the green light).
If you do get pulled in to an agricultural check point, they will ask to see your bills or they will ask what you are hauling and where you came from. Depending on your answer they may choose to inspect your load to be sure you don't have any contaminants that will affect Florida's produce and exports.
All rental trucks and vehicles with trailers are required to pull into the agricultural inspections. Vehicles entering Florida will be prohibited from transporting citrus plants but other types of plants are allowed. Florida will require anyone transporting plants or livestock to fill out forms at the agricultural inspection. Florida will send inspectors to the final destination marked on the forms to inspect produce plants.
Florida is considered one of the most desirable destinations in the entire United States. Unfortunately for trucker, there isn't much truck parking in any of the desirable locations! If you go to the Florida Keys, you should be able to find pull out areas to park. Other than that, you will have to find parking and take a cab to most of Florida's vacation destinations. In many parts of the Florida coast line, trucks over a certain length are not allowed to park- and the length limit is far less than the average tractor trailer truck!
There are some interesting roads truckers can travel, however. The most notable is I 75 along the southern edge of Florida. Though I 75 is a north and south bound freeway, it runs directly east and west across Alligator Alley. This toll road has various rest areas and recreational parking areas where truckers can park without having to worry if there will be enough space. Along Alligator Alley, you can see alligators in the waterways alongside the freeway. It's a bad idea to take your dog for a walk if there is water nearby along this stretch of roadway.
The Florida fuel tax rate is $0.29 per gallon of diesel fuel. Local and county governments can levy additional fuel taxes in their areas.
Over-Gross Weight Tolerance: Premium Content
Over-Gross Weight Procedures: Premium Content
Overweight Fines and Consequences: Premium Content
Premium Information: Premium Content
Important Phone Numbers:
State Highway Patrol: 850-487-3139
Motor Carrier Compliance: 850-245-7900
Overweight/Oversize Permits: 850-410-5777/866-374-3368×5777
DOT Headquarters: 850-245-7900
Dept of Agricultural Law Enforcement: 1-800-342-5869
IRP: 850-488-6921
Trip Permits: 850-488-6921
Commercial Driver Licenses: 850-487-4705/800-741-2354
CMV Information: 850-414-4700
PrePass: 800-773-7277

---
[wp_ad_camp_2]