Arkansas Weigh Station & DOT Information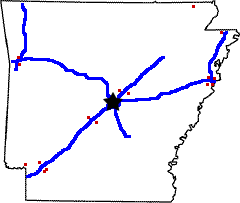 Total Weigh Stations & Truck Scales: 22
Arkansas (along with Louisianna and Missouri)used to have some terrible roads. Truckers would jump out into the left lane to try and smooth the ride out (you will see signs on the freeway now saying that this is prohibited). The freeway was in sections and each section would cause the truck to jump- it was a constantly bumpy ride. Truckers would joke that they needed to pull over at the state line to tie down their belongings to keep them from banging around. In recent years, Arkansas has fixed a lot of the roadways.
Arkansas only requires commercial vehicles to cross their scales. This means rental trucks are off the hook- but the officers in the weigh station have no way of knowing who is using a rental truck for commercial purposes and who is using one for personal use. So, if the officer sees a rental truck drive past the scale, the officer may choose to chase the truck down and make sure it's not a commercial vehicle in disguise. Arkansas DOT suggests that all rental trucks go ahead and pull into the weigh stations to avoid a roadside check.
PrePass trucks that receive a green light in Arkansas must still enter an open weigh station if they are pulling an oversize/overweight load (even permitted loads) or placarded hazmat or hazwaste load.
The Arkansas fuel tax rate is $0.228 per gallong of diesel.
Over-Gross Weight Tolerance: Premium Content
Over-Gross Weight Procedures: Premium Content
Over-Axel Weight Procedures: Premium Content
Interstate Weight Limits: Premium Content
State Route Weight Limits: Premium Content
Overweight Fines and Consequences: Premium Content
Dodging the Scales: Premium Content
Blowing By the Scales: Premium Content
Important Phone Numbers:
State Highway Patrol: Ar501-618-8000/501-569-2421
Arkansas State Highway and Transportation Department: 501-569-2000/501-569-2421
Commercial Vehicle Enforcement: 501-569-2421
Department of Transportation Regulatory Unit: 501-569-2358
Overweight/Oversize Permits: 501-569-2381
IRP: 501-682-4653
Trip Permits: 501-682-4653
Motor Carrier Authority: 501-569-2358
PrePass: 800-773-7277

---
[wp_ad_camp_2]