Arizona Weigh Station & DOT Information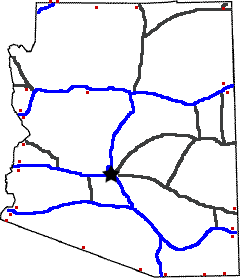 Total Weigh Stations & Truck Scales: 32
All commercial vehicles over 1 ton (2000 lbs) must enter the Arizona weigh stations if they are open. A commercial vehicle that is less than 1 ton is not required to enter. All vehicles over 10,000 lbs are required to enter the Arizona weigh station.
Arizona has put up lighted signs at the weigh station exit ramps. The scale signs are on the side of the freeway when you approach one of the port of entry stations. They will light up as the trucker goes by to say either TRUCK OK TO BYPASS or TRUCK MUST EXIT TO WEIGH STATION.
Arizona port of entry weigh stations also use PrePass transponders. The smaller stations do not use this. We have found that whatever we get on the PrePass transponder is generally the opposite of whatever the lighted sign says to do. Prepass brochures say that truckers are supposed to follow the in-cab signal on their transponder regardless of what the road sign weigh station sign says.
PrePass trucks that receive a green light in Arizona still must enter an open weigh station if they are carrying a oversize/overweight (unless Class E permit) load, placarded hazmat or hazwaste load, fuel import load, agricultural load, or livestock load.
Truckers planning to get to Phoenix early and park for the night may be in for a big surprise. The truck stops tend to stay full all day- if you're lucky enough to find a free parking spot, don't give it up until you're ready to move on- even the paid parking at Danny's Big Rig Resort tend to stay full.
If you are heading from Phoenix to Las Vegas area, you may want to consider two routes.
One is to go north on I 17 out of Phoenix to the Carefree Highway west. You'll take that out and follow route 74 west to route 60 west. In Wickenburg, you'll follow route 93 up to I 40 west to Kingman. Out of Kingman, you'll take 93 north, but only as far as route 68. Tractor-trailer trucks are no longer allowed to cross over the Hoover Dam on route 93. You'll take 68 west over into Nevada (the road turns into route 163) to route 95 north. If you go this way, be sure to stop in Wikieup, AZ, for some good fixin's at Joe's BBQ- we hear they serve 'em up good.
Another route to consider is taking I 10 west out of Phoenix to the Vicksburg Road exit (exit 45). You'll go north on Vicksburg Road, cross over route 60 and continue on to route 72. You'll go west on 72 and cross into California (the road turns into route 62). You will have to cross a California "bug check," but there is no weigh station there. You will turn right out of the bug check on route 95 north and take that in to Vegas.
Arizona has some notable places to park your truck, take a break and look around.
In Williams, you can park your truck and take a train ride to the Grand Canyon for the day. In Dragoon (exit 318 I 10), there is a Dairy Queen with truck parking that advertises "The Thing." What is it? Well, we suggest you stop in, pay for a ticket and find out for yourself… Between Flagstaff and Winslow on I 40, there is a massive meteor crater. If you're looking you can just barely make out the upper edges of the crater from the freeway. They have truck parking and there is an admission charge. And if you're headed up into Colorado during good weather, we suggest you take route 160 sometime and drive right through Monument Valley, where many of the old western films were shot.
The Arizona fuel tax rate is $0.28 per gallon of diesel. But for use class vehicles weighing more than 26,000 lbs (if you're in a tractor trailer truck, that means you), the rate is $0.37 per gallon of diesel.
Over-Gross Weight Tolerance: Premium Content
Over-Axel Weight Tolerance: Premium Content
Overweight Fines and Consequences: Premium Content
Blowing By the Scales: Premium Content
Important Phone Numbers:
State Highway Patrol: 602-223-2000
DPS Motor Carrier Section: 602-223-2522
Commercial Vehicle Enforcement: fax 602-223-2918
Arizona Commercial Permits: 623-932-2247/623-932-2257
Overweight/Oversize Permits:800-251-5866
IRP: 602-712-6775
Trip Permits: 602-932-2257
PrePass: 800-773-7277

---
[wp_ad_camp_2]