How to Stop Losing Time & Money at Weigh Stations
Stay Safe and Informed for $4.99/mo.
This is the best site on the internet and a trucker's best friend!
-Len F.
We are obsessed with truck scale information. We research all of these details so you don't have to. We're proud to be "The Weigh Station People". A single over-weight ticket at a truck scale could cost you $100′s or even $1000′s. Armed with the right information, you can know exactly what is expected of you in a given state or at a specific station and we're sure you feel that your money is better off staying in your own pocket than in theirs.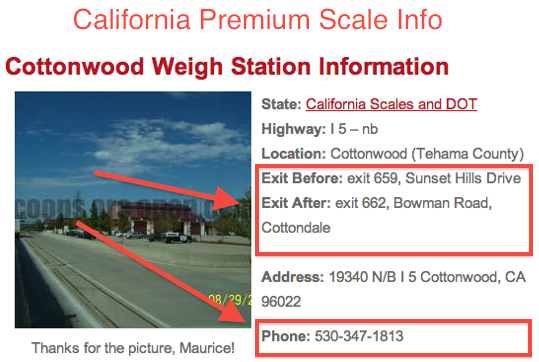 We've driven thousands of miles, called hundreds of officials, taken countless pictures and spent $1000′s researching the scales. While we want to give away as much of this information for free as possible, and we do, someone has to pay the bills…so we have reserved some of the hardest to find information—and the most valuable—for our premium subscribers. Our information can save you tons of time and money.
Stay Safe and Informed for $4.99/mo.
I recently joined and I must tell you, you did a great thing here !
-Dwayne O.
On each scale or state page, all premium information that we have for that specific scale or state is marked by a Premium Content link. Information that we consider premium is:
Alternate Routes around the scales
State-specific DOT information (rules, penalties, fines…)
Scale phone numbers.
Scale fax numbers.
Exit numbers before and after scale.
Is scale marked wrong/not marked on the Trucker Atlas.
And more…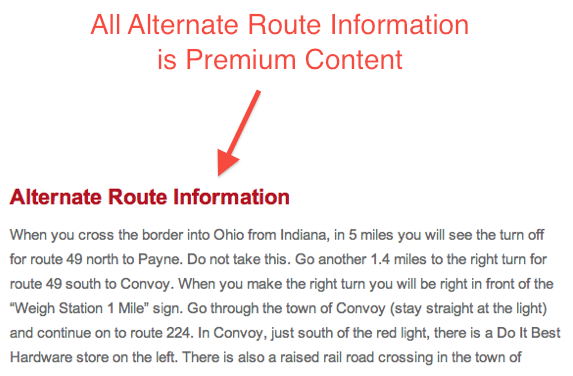 I could've made a lot of truck payments over the past 31 yrs for the fines I've paid and the expense of off loading. If this site had been available all these years I'd have more hair and more in the bank acc't. This is absolutely fantastic!
- Diesel Daddy
Stay Safe and Informed for $4.99/mo.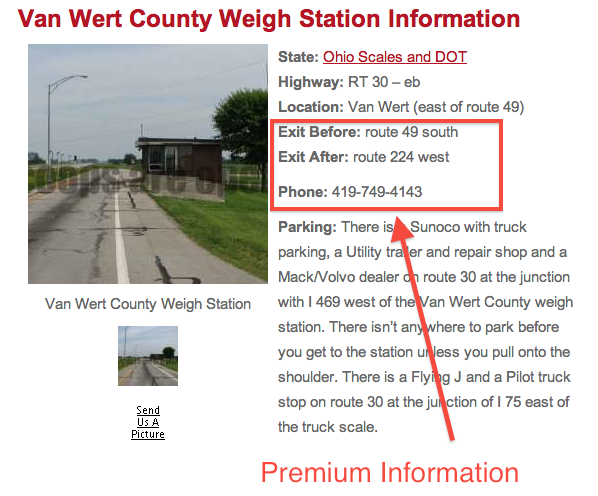 Upgrading to Premium Access will help you to…
Do NOT enter a scale or state without knowing if you are OK.
Do NOT try and Take Your Chances at a scale.
Do NOT risk the chance of fines, delays, offloading…
DO know what each scale and state expects of you.
DO know when and where you are likely to be inspected.
DO know your options for legally going around the scales.
Did you know?:
It is cheaper in Nebraska to get an overweight ticket than it is to get caught going around the scales.

If Idaho catches you 4,000 lbs or more over gross on a Friday, they might send you to jail for the weekend until the judge gets in on Monday.

Ohio doesn't penalize you for going around the scales and they only have 12 sets of portables, mainly used for accident reconstruction, not weighing outlaw truckers.
Putting you in control of your weigh station, truck scale and DOT inspection options is what we are all about! Bottom Line: You can't afford NOT to have this information and it's a steal at only $4.99 per month.
Stay Safe and Informed for $4.99/mo.
All i have to say is WOW!
- Hot Rod
Stay Safe and Informed for $4.99/mo.
var _gaq = _gaq || []; _gaq.push(['_setAccount', 'UA-376862-1']); _gaq.push(['_trackPageview']);
(function() { var ga = document.createElement('script'); ga.type = 'text/javascript'; ga.async = true; ga.src = ('https:' == document.location.protocol ? 'https://ssl' : 'http://www') + '.google-analytics.com/ga.js'; var s = document.getElementsByTagName('script')[0]; s.parentNode.insertBefore(ga, s); })();